Whirlpool Stove Repair
One of the best options to choose is Whirlpool appliance, as this company is known all over the world for decades so far and claims to be one of the most reliable companies. To have such a top-notch stove running like a clock always, you should be aware of what to do when something goes wrong. Home Appliance Service Center is what you need because we provide Whirlpool Stove Repair in San Diego County only of the greatest quality, fair cost, and the shortest term. Decent and stressless, as you deserve.
Stoves belong to that type of kitchen appliances that always demand special attention, as they work with high temperature, flame, and some of them - with gas, what may become a real danger for you, the very appliance, or your house. 
Because of that, we strongly recommend you to apply to specialists in case you notice some malfunctioning, like:
The stove cannot be turned on or off

The flame goes out itself, flickers or sparks;

Flame has yellow or orange color;

While the stove is on, it buzzes, vibrates, or produces other wrong sounds;

Any heating elements cannot get hot enough, or go hotter than needed;

Controllers are not functioning; the control pad failed;

You smell gas or burn;

Flashing lights or bulbs are not shining;

Troublesome or cracked door/door glass.
A technician who specializes in Whirlpool Stove Repair and Service can determine the cause and repair the problem.
Those or other issues may be caused by different reasons, starting with clogged gas ports, vet tubes, or convention fans, and finishing with faulty thermostats, broilers, coils, baking elements, wiring, or igniter. Indicating it exactly without specific knowledge is hard, but our technicians who specialize in Whirlpool Stove Repair can do that easily, even remotely. 
You can get in touch with us anytime and get a free professional consultation and diagnostics, which boosts the speed of those technicians who specialize in Whirlpool Stove Repair and Service. 
It concerns not only serious malfunction rings but also minor unpleasant situations, like the need to replace knobs, buttons, switchers, handles, grates, burner covers, fan blades or baffles, door hinges, or drawer mechanisms. 
As the situation gets clear after you explain everything to our technician, he may choose the needed spare parts and announce to you an approximate cost of work. Our prices are the most affordable and always fair.
When you know the plan of action and you accept all the conditions, you can pick any suitable time when you want our worker to arrive. If your case is urgent and you are ready to pay a little extra for receiving the assistance at night, or day off, the technician leaves the office and rushes to you within 15 minutes after your call. Normally, completing any task does not take longer than a day.
Quick and affordable - sounds too good, so many people often associate it with poor quality. In our case, it works on the contrary! We do not have to waste time because we already know what to do! 
Our technicians who specialize in Whirlpool Stove Repair have been refining their skills for over 20 years so far, and they keep it on, getting more experience, knowledge, and proficiency every day, 
So now they can perfectly complete Whirlpool Stove Repair and Services of any complexity for any model, regardless of its rarity, lifetime or condition. We have had tons of clients applying to us with totally different issues and we have successfully solved them, gaining happy clients, their positive reviews, and recommendations. 
So you should never doubt the reliability of our work, which is always done with maximum qualification, carefulness, and the best professional tools together with original spare parts and provided Whirlpool Stove Repair.
Having a local department, which is round-the-clock open to serve your Whirlpool Stove Repair and Service needs, is the most convenient and stressless solution for you in case of any breakage or for proceeding with regular maintenance. Feel free to contact Home Appliance Service Center at any moment to get the most reliable work at the soonest time and at the most favorable price!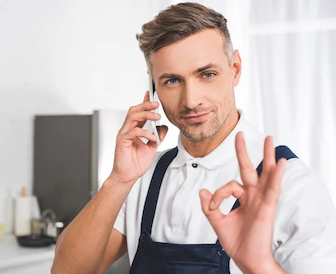 Main Reason to Choose Us
We've been repairing household appliances since 2001. Our experience is your guarantee of quality. We are ready to come to you on the same day and inexpensively carry out high-quality repairs. We use only original spare parts!

Labor Guaranteed
We provide a 90-day warranty on every repair for every client.

Same Day Service
We carry out repairs on the same day you call us in 95% of cases.

Licence & Insured
Each repairman who works for us has a license and insurance.
Choose the brand of your Refrigerator
We repair all popular models of residential appliances from major brands. Find your Refrigerator brand in the list below and click on it for helpful information. Call us or fill out the feedback form, and our repairman will come to you on the same day. Rely on us and we will prove that we are real professionals!