Sharp Stove Repair
The owners of Sharp equipment especially appreciate its noble quality, convenient size and excellent performance, so its damage can be a disappointing and unpleasant thing. Gladly, any such situation may be resolved quickly if you apply to the Home Appliance Service Center. Our qualified, responsible and friendly staff makes its best since 2001 to provide all clients with the most reliable Sharp Stove Repair in San Diego County.
We know that the most wanted way to get your appliance fixed is having helped quickly, at an affordable price, and in the highest quality, so when it is done you do not stress about anything. 
And that is exactly how we complete each task! With over 20 years' experience  in all types of Sharp Stove Repair and Service, our specialists perfectly know all the subtleties of their structure and how all functions are performed, so regardless of the model, type, rareness, or oldness of your appliance, the solution will be found in no time!
The first steps to making your stove run like a clock can be done as soon as you notice it working wrong. Call us and get a free consultation and diagnostics and after talking with our specialist you will find out what should be done and the cost of the Sharp Stove Repair. 
To clarify this, you will need just to point out, what you notice with your stove now, like:
It is not possible to turn it on or off;

Some or all parts give out no heat or flame;

The flame shuts off itself, makes sparks or flickers, or is red, orange, or yellow;

While turning on, burners are clicking or hissing;

The oven makes vibrations or loud unusual noises;

The temperature on burners or inside the stove cannot reach the needed, is too low, or too high, or heats up to a needed level too long;

It smells like burn or gas (pay the most attention to the gas smell, especially if the oven is off, and you notice gas leakages);

Software issues, so the control pad needs recalibration (timers and controllers do not function, the screen shows an error or does not work, or no settings can be changed);

Light indicator or bulb is blinking, or burnt-out;

Gas ports, vent tubes, or fans are dirty with crumbs and dirt;

Torn wires or isolation, damaged pilot light or gas safety valve, causing unstable electricity or gas supply;

The door cannot be properly closed (worn-off gasket, deformed hinge or spring) or has a cracked glass;

Faulty convection fan (including its motor), heating elements (broilers, heaters, tans, coils, induction elements, grills), thermostat;

Old or damaged seals, leveling feet, belts, bearings, drawer mechanisms, fan blades or baffles, switches, knobs, or buttons need to be replaced.
Call a Sharp Stove Repair and Service technician to find the cause, tighten anything that's loose, and replace the failed parts.
To resolve those and other problems, we use only top-rank professional equipment, tools, materials, and original spare details, and together with the highest proficiency of our technicians who specialize in Sharp Stove Repair.
It makes the result of Sharp Stove Repair and Services always flawless, which is proven by tons of excellent reviews, left by our satisfied clients, who also often share positive opinions about us with others. We add a long-term guarantee to all work, done by us, as we do not doubt its reliability and quality and want you to feel calmer too.
Our local department in San Diego has the friendliest team of managers and technicians who specialize in Sharp Stove Repair, who are available 24/7 to provide you with all the needed information and organize the arrival of the technician at the most suitable time. 
Mostly, the work is complete within a day, and you can additionally speed it up if you want to get our assistance in the soonest term on a day off or during non-working hours by choosing an option of an urgent departure for a slightly higher price.
Applying to Home Appliance Service Center, you never lose time or money, as we have the fairest prices and perfect management. It lets us be able to conduct any needed Sharp Stove Repair and Service for you in the most pleasant conditions. To get all those benefits, you just need to contact us in any suitable way, and all the rest will be done by us!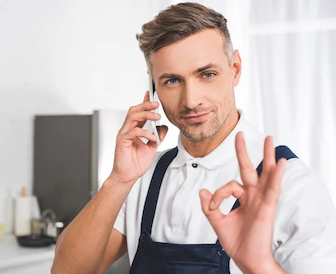 Main Reason to Choose Us
We've been repairing household appliances since 2001. Our experience is your guarantee of quality. We are ready to come to you on the same day and inexpensively carry out high-quality repairs. We use only original spare parts!

Labor Guaranteed
We provide a 90-day warranty on every repair for every client.

Same Day Service
We carry out repairs on the same day you call us in 95% of cases.

Licence & Insured
Each repairman who works for us has a license and insurance.
Choose the brand of your Refrigerator
We repair all popular models of residential appliances from major brands. Find your Refrigerator brand in the list below and click on it for helpful information. Call us or fill out the feedback form, and our repairman will come to you on the same day. Rely on us and we will prove that we are real professionals!