Amana Furnace Repair
If there is a list of critical home appliances anywhere, a furnace is definitely at the top of the list. Failure of such equipment can seriously affect the comfort of the residents of the house. However, there is also good news. Modern furnace models are distinguished by good maintainability. If your home appliances start to malfunction, feel free to contact the Home Appliance Service Center. Our specialists Amana Furnace Repair in San Diego County both residential and commercial household appliances. For us, the power of your furnace, the complexity of the design and other features of the equipment don't matter. 
With over 20 years of experience, our Amana Furnace Repair and Service know how to find the right approach to any model. If the equipment is at least theoretically repairable, there can be no such problems that our employees would not have coped with. 
To verify this, you can read the reviews of people who have already ordered Amana Furnace Repairs from our company. Go to Google or Yelp. There you will find comments from customers who came to us with both simple problems and very serious breakdowns.
Our licensed technicians get the job done quickly
The fact that our specialists Amana Furnace Repair and Service perform their work professionally is an axiom. More than 20 years of experience is a guarantee of the high quality of services provided by our company. 
However, the high class of repair is not our only advantage. If you order Amana Furnace Repair from our company, you will also see how quickly we do our job!
For starters, you will be pleased with how quickly we respond to customer requests. In 95% of cases, specialists come to clients on the same day. This is very important when it comes to the furnace. If such equipment fails, the room becomes cool, and this creates serious inconvenience. 
If you order Amana Furnace Repairs and Services now, most likely, our specialist will repair your equipment in a few hours. Another good news: in 90% of cases, the technician completes the work on the same day. The exceptions are cases when a really very complex, critical breakdown has occurred.
Modern equipment for diagnostics and repair helps us to work quickly. Experienced specialists skillfully handle these tools, which has a positive effect on the timing of the repair.
Important point: every client who turns to us for help receives a 90-day warranty. During this time, you can call Amana Furnace Repair any day if you have questions or problems with the household appliance. Our company works seven days a week, and we are always ready to help our customers.
How to use the services of our company
Do you want to order Home Appliance Service Center and trust our professionals? You have made the right choice! To order a repair, you need to call the phone number listed on the site. We remind you that you can do this any day. Another way to use the services of our company is to fill out the feedback form. Also, the manager Amana Furnace Repair and Service will offer you to choose the time when you will be ready to meet our specialist at home.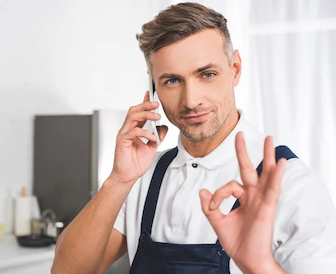 Main Reason to Choose Us
We've been repairing household appliances since 2001. Our experience is your guarantee of quality. We are ready to come to you on the same day and inexpensively carry out high-quality repairs. We use only original spare parts!

Labor Guaranteed
We provide a 90-day warranty on every repair for every client.

Same Day Service
We carry out repairs on the same day you call us in 95% of cases.

Licence & Insured
Each repairman who works for us has a license and insurance.
Choose the brand of your Refrigerator
We repair all popular models of residential appliances from major brands. Find your Refrigerator brand in the list below and click on it for helpful information. Call us or fill out the feedback form, and our repairman will come to you on the same day. Rely on us and we will prove that we are real professionals!