Broan Hood Repair
If your hood is broken, don't get upset. If you entrust the repair to a true expert in their field, soon your household appliance will work like new. Only such experts know how to correctly find the cause of a breakdown, how to restore or replace a part that has failed. The Home Appliance Service Center employs only such technicians. Each specialist has more than 20 years of experience (our company was founded in 2001). technicians have a license, certificate, insurance. Our company works officially, therefore, if you order Broan Hood Repair in San Diego County from us.
Whether you need an urgent repair, or you just don't like to waste time, our company will meet your needs. In 95% of cases, our Broan Hood Repair and Service specialist comes to the client on the same day. 
No extra waiting! Extensive experience of our Broan Hood Repairs specialists and professional equipment for diagnostics and repair help us carry out repairs in the shortest possible time. In addition, a large warehouse allows us not to waste time. Spare parts for Broan household appliances are stored there, and they are ready for use right now.
About typical breakdowns of Broan Hoods
Most likely, you will be interested to know what kind of breakdowns people who order Broan Hood Repair and Service most often come to us with. Who knows, maybe you will find your problem in this list? However, remember that we fix not only these problems. 
Our Broan Hood Repair specialists carry out repairs of any complexity and find an approach to any Broan hood model.
Mode buttons don't work (you press the button, but the mode doesn't change).

The appliance makes a lot more noise than before.

Hood weakly sucks in air, it's still hot in the kitchen.

Hood works, but food smells remain (most likely there is a problem with the filter).

There is smoke or a smell of smoke in the kitchen while the appliance is in operation.

Hood doesn't turn on or turn off spontaneously during operation.

The backlight is broken.
We don't recommend trying to disassemble the household appliance and repair it yourself. It is better to make just one call and order Broan Hood Repairs and Services from our company. Self-repair often leads to even more serious problems and large financial expenses.
If you entrust this work to us, you will receive a 90-day warranty. Each of our clients has three months to make sure that the hood works without failure. We stay in touch with you and are ready to provide professional assistance literally at any time, as our company works seven days a week. You can turn to our Broan Hood Repair technicians for whatever problem you have, as we fix problems of any complexity.
Get help from a company with a great reputation
For more than 20 years, we have helped hundreds of customers who were satisfied with the services provided. We recommend reading reviews about our company to make sure that great professionals work for us. Go to Google or Yelp. Clients write a lot of positive comments about us and recommend us to friends and relatives.
Home Appliance Service Center is a professional service center you can trust! To order Broan Hood Repair and Service, you need to call the phone number listed on the website. You can do this any day. Another way to order a service is to fill out the feedback form on the website. If you prefer this option, our manager will contact you shortly.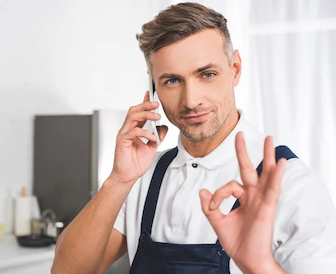 Main Reason to Choose Us
We've been repairing household appliances since 2001. Our experience is your guarantee of quality. We are ready to come to you on the same day and inexpensively carry out high-quality repairs. We use only original spare parts!

Labor Guaranteed
We provide a 90-day warranty on every repair for every client.

Same Day Service
We carry out repairs on the same day you call us in 95% of cases.

Licence & Insured
Each repairman who works for us has a license and insurance.
Choose the brand of your Refrigerator
We repair all popular models of residential appliances from major brands. Find your Refrigerator brand in the list below and click on it for helpful information. Call us or fill out the feedback form, and our repairman will come to you on the same day. Rely on us and we will prove that we are real professionals!