Wolf Hood Repair
Home Appliance Service Center handles Wolf Hood Repair in San Diego County. We have 20 years of experience, we know our business very well, and we understand our customer's problems.  Rest assured, we will do everything we can to repair your appliances as quickly and efficiently as possible.  You can call us or leave a completed form on our website, and we will contact you as soon as possible.
A kitchen hood is a device that cleans the air of smoke, combustion products, fumes, odors and other unwanted impurities. No wonder it needs repairs from time to time. Our service center repairs cooker hoods in the homes of its customers.
Why this Company 
Professional Wolf Hood Repair and Service is one of the most requested services in our practice. We've been providing this service since 2001 and offer customers the best value.
A more reliable solution for Wolf Hood Repairs would be to turn to professionals. The specialists of our service center are specially trained by representatives of appliance manufacturing companies. In addition, the masters of repair of hoods, have extensive experience working with equipment of different brands and models.
Therefore, by contacting us, you can get inexpensive services in the following areas:
Reinstalling and reconnecting. This type of work is required if the wires are not connected correctly or if the corrugations are jammed.

Repair or replace the power cord. This type of work may be necessary if your kitchen hood's motor or backlight doesn't turn on.

Repair or replace the motor. If your hood motor fails, our craftsmen will promptly replace it using genuine manufacturer's replacement parts.

Replacement of the motor fuse. This need occurs when the motor hums (turns on), but does not work.

Replacement of contacts or buttons. The elimination of these faults is required when the contacts break as a result of vibration.
Before carrying out these and other types of work, our masters necessarily conduct diagnostics. After determining the fault, the customer is told the price. If the customer is satisfied with the cost and conditions, the specialist proceeds to work. In this case, the diagnosis is not paid for. In case of refusal, payment for diagnostics is made according to the price list. Wolf Hood Repair and Service can fix the problem without any loss of quality.
In most cases, we perform Wolf Hood Repair at home. Only in rare cases, when the use of special equipment is required, will work be carried out in a service center. We take care of the transportation to our workshops and offer this service free of charge. After the work is completed, a test run is definitely performed.
Costs
The cost of Wolf Hood Repairs and Services work on an extractor hood is formed individually. The final amount is influenced not only by the amount of repair work, although filter cleaning is certainly cheaper than replacing electronics, but also the type of device, manufacturer, service life, and the urgency of the work. During the diagnosis may reveal hidden problems, such as large amounts of grease or dust deposits, then the master will advise a preventive cleaning, which also affects the price, although slightly. Call a Wolf Hood Repair technician and he'll fix it.
If you need kitchen hood repair, we recommend contacting the Home Appliance Service Center. For 20 years we have employed only the most experienced, qualified specialists.  If you have a problem, you can contact us by calling us at the number listed on our website or leave a completed form on the website and your problem will be solved immediately. We do 90% of the work the same day. We do Wolf Hood Repair and Service at home. But some particularly severe cases may require transporting the unit to our repair shop. Which can take several days (up to a week), depending on the complexity of the job.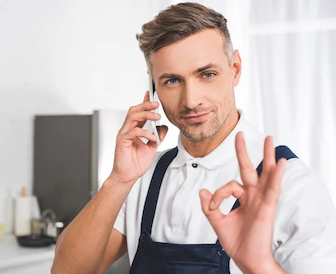 Main Reason to Choose Us
We've been repairing household appliances since 2001. Our experience is your guarantee of quality. We are ready to come to you on the same day and inexpensively carry out high-quality repairs. We use only original spare parts!

Labor Guaranteed
We provide a 90-day warranty on every repair for every client.

Same Day Service
We carry out repairs on the same day you call us in 95% of cases.

Licence & Insured
Each repairman who works for us has a license and insurance.
Choose the brand of your Refrigerator
We repair all popular models of residential appliances from major brands. Find your Refrigerator brand in the list below and click on it for helpful information. Call us or fill out the feedback form, and our repairman will come to you on the same day. Rely on us and we will prove that we are real professionals!