Frigidaire Freezer Repair
Did you know that Frigidaire is a company with over 100 years of experience and produces one of the most technologically advanced home appliances on the American market? We are perfectly familiar with this equipment, and we can say that in order to properly repair such household appliances. Home Appliance Service Center uses modern technology, original design solutions and high-quality components. If you want your freezer to be repaired according to the rules, entrust this work to the specialists of the Frigidaire Freezer Repair in San Diego County.
We employ certified and licensed technicians who are fully responsible for the quality of the work performed. Every customer who uses Frigidaire Freezer Repair and Service receives a 90-day quality guarantee. Don't think that you will be left alone with the problems that may arise in the future. 
You can always count on our support. However, practice shows that our experts carry out Repair extremely professionally, and after completion of the work, household appliances work reliably and for a long time.
Do you want to make sure of this? Go to Google or Yelp. You will find there a lot of positive feedback from customers who have already contacted us for help. Many of them recommend our Frigidaire Freezer Repair to their friends and relatives. There are entire families who use the services of only our specialists. You will become another client who will be completely satisfied with the quality of the repair and the high level of service!
We love challenging tasks!
You can order Frigidaire Freezer Repair and Service, no matter what kind of breakdown occurs. 
Our specialists Frigidaire Freezer Repair carry out Repair of any complexity. Of course, sometimes household appliances completely fail and cannot be restored. This happens, for example, if the owner ignores a breakdown for a long time, and as a result, it causes irreparable damage. 
However, in most cases, you can find a way to restore the freezer. If there is even a slight chance to do this, our repairman will help you. Some of the breakdowns that our specialists often encounter:
The temperature inside the freezer is not low enough.

The household appliance turns off by itself.

A thick layer of ice forms on the walls of the freezer.

A strange noise appears during operation of the household appliance.

There is a burning smell.

The temperature inside the freezer changes by itself.

Water is leaking from the freezer.
We don't recommend disassembling the household appliance and trying to repair it yourself. An inexperienced person can make mistakes, and some mistakes are too costly. If you want to do the repair yourself, because "it will be faster", you shouldn't do it. In 95% of cases, our repairman comes to the client's home on the same day, so to save time, it's better to order Frigidaire Freezer Repair and Services.
You can call us any day
Home Appliance Service Center is open on weekdays, holidays and weekends. You can call us even on Saturday evening, for example. You can find the phone number on the website. If you would like us to call you, fill out the feedback form, which is also on the site. You can contact Frigidaire Freezer Repair if you have questions about our company or a specific service.
You'll need to have a short conversation with our manager  Home Appliance Service Center. Tell us the freezer model, describe the breakdown and its consequences, choose the time when our specialist should come to you. You don't need to go into technical details. You can briefly describe the problem you are facing. Everything else is our concern. Our Frigidaire Freezer Repair and Service is the solution to your problems!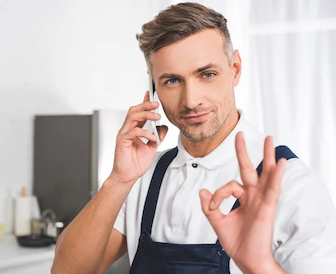 Main Reason to Choose Us
We've been repairing household appliances since 2001. Our experience is your guarantee of quality. We are ready to come to you on the same day and inexpensively carry out high-quality repairs. We use only original spare parts!

Labor Guaranteed
We provide a 90-day warranty on every repair for every client.

Same Day Service
We carry out repairs on the same day you call us in 95% of cases.

Licence & Insured
Each repairman who works for us has a license and insurance.
Choose the brand of your Refrigerator
We repair all popular models of residential appliances from major brands. Find your Refrigerator brand in the list below and click on it for helpful information. Call us or fill out the feedback form, and our repairman will come to you on the same day. Rely on us and we will prove that we are real professionals!