GE Ice Maker Repair
Ice maker is a much more serious household appliance than it might seem at first glance. It is better to entrust repair to professionals from the Home Appliance Service Center.
We have extremely experienced specialists: each of them has more than 20 years of experience in repairing a wide variety of household appliances. This is a strong argument in our favor, isn't it? When you order GE Ice Maker Repair in San Diego County service, you will receive assistance from licensed and certified professionals. Only such experts work in our company. In addition, each of them has insurance.
Feel free to contact GE Ice Maker Repair and Service if you don't want to waste time and want your household appliance to work correctly again as soon as possible. If you call us today, most likely, our specialist will come to you today too. 
Only in 5% of cases we postpone the visit to the client the next day. Our experts GE Ice Maker Repair quickly carry out repair, because we have everything, we need to complete the task immediately in a warehouse. 
We are now talking about spare parts for General Electric household appliances, as well as professional equipment for diagnostics and repair. And, of course, the great experience of our specialists positively affects the speed of repair. A repairman GE Ice Maker Repair and Service who has been doing his job for many years completes tasks ten times faster than a novice.
Common breakdowns of GE ice makers
GE Ice Maker Repair doesn't just know what breakdowns most often occur with such household appliances. We have encountered these problems dozens of times, which means that we immediately know what needs to be done, no matter what situation arises. 
This can be considered another factor that allows our specialists to quickly carry out Repair. Let's look at the breakdowns most often complained about by people who order GE Ice Maker Repair and Services from us.
Ice cubes have irregular shapes.

Ice doesn't freeze well, doesn't hold its shape, and breaks easily.

The household appliance turns on, starts working, but no ice appears.

Ice maker doesn't turn on or turn off by itself at some point.

Significantly more time is spent making ice than before.

The appliance makes an unusual noise that you have not heard before.

Periodically you feel a burning smell.

The ice maker has been severely damaged, causing it to lose its attractive appearance or to malfunction.
There is nothing wrong with your household appliance breaking down. That happens sometimes. The main thing is to ask for help in time and order GE Ice Maker Repair.
To do this, you only need to make one phone call. 
Home Appliance Service Center you can find the phone number on the website. If you want us to call you first, leave your details in the feedback form. Soon our employee will call you and have a short conversation. You will need to briefly describe what happened to your ice maker and what condition the appliance is in. You can also choose a convenient time when you are ready to meet our specialist at home. You can call us any day if you have questions about our company in general or about our GE Ice Maker Repair and Service.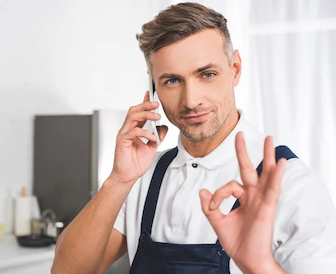 Main Reason to Choose Us
We've been repairing household appliances since 2001. Our experience is your guarantee of quality. We are ready to come to you on the same day and inexpensively carry out high-quality repairs. We use only original spare parts!

Labor Guaranteed
We provide a 90-day warranty on every repair for every client.

Same Day Service
We carry out repairs on the same day you call us in 95% of cases.

Licence & Insured
Each repairman who works for us has a license and insurance.
Choose the brand of your Refrigerator
We repair all popular models of residential appliances from major brands. Find your Refrigerator brand in the list below and click on it for helpful information. Call us or fill out the feedback form, and our repairman will come to you on the same day. Rely on us and we will prove that we are real professionals!