U-line Ice Maker Repair
Ice makers are appliances that cannot be called vital or multifunctional, but they have their own benefits, as they are small and prevent you from dealing with ice trays or waiting for hours before the cooling cubes are ready. From time to time, our professionals in the Home Appliance Service Center receive complaints about the functioning of these items, and making things back to normal is what our mission is! You can rely on our company at any moment, as we are 24/7 ready to provide you with the most reliable U-line Ice Maker Repair in San Diego County at a favorable price.
Some owners of U-line ice makers claim that even the oldest ones perform great, but some models do not satisfy them with the shape or size of ice cubes or loud noises. That are not the only issues, which may happen to these appliances, you may also face something like:
You cannot turn the ice maker on or off;

The ice cubes cannot be produced, are too soft or solid, or covered with ice mold, so cannot be easily ejected;

Ice does not fall or does not stop falling into the ice basket when it is already full;

The temperature inside gets too warm or too cold;

Refrigerating coolant leaks in or out;
Water is leaking or drops are collecting underneath the appliance;

Control pad, timers, controllers, or the screen malfunctions or does not work at all;

Ice smells or tastes unpleasant;

Water or electricity supply is disrupted;
Need to replace old or damaged belts, leveling feet, seals, flaps, hinges, handles, buttons, knobs, switchers, baffles, bearings, inner tubes, inlet piper, or supply valves;

Hardware parts, like, the power switch, compressor, gearbox, control arm, ice cutting mechanism, control module, or fan, are out of order, so require fixing or replacement;

Chocked or dirty water pump, line, reservoir, or filter.
If you notice anything from that list or have a different problem, feel free to call us anytime to apply for U-line Ice Maker Repair and Service, to get advice, consultation, or to conduct remote diagnostics. Even without touching your appliance, our specialists can easily detect what is the problem, if you explain the situation, and find the most effective way out. 
It is also possible to announce to you the approximate cost of such work beforehand or to indicate if the appliance is beyond repair. In any case, you will be fully aware of the condition of your item. The price of  services U-line Ice Maker Repair is the fairest, as we never overcharge and always inform you of what you are paying for.
Mostly, after you apply to U-line Ice Maker Repair and Service, you get your ice maker running like a clock on the same day, as we know how precious time is, and work quickly without influencing quality. It also happens that the repair is needed at not an appropriate moment, like late at night or on a day off, but it is not an obstacle for us! 
Our company offers to arrange the departure of the technician U-line Ice Maker Repair from the closest local department in 15 minutes after you apply for it for just a slightly higher price, but then the assistance comes immediately even during non-working periods.
Besides being the most swift, we are also caring about the quality of the U-line Ice Maker Repair and Services, so have carefully selected the best equipment, tools, and materials, use only original spare details and develop skills and knowledge of our staff to make sure that you always get the best result, and nothing is squeaking or tottering when the work is done. 
Any model, even the oldest or the rarest one, can be fluently and accurately fixed, as in over 20 years our technicians got all the needed craftsmanship to resolve the most complicated and unusual breakages. We are responsible for our work, so always provide a long-term guarantee for each case.
Besides warranty, we also have other reliability signs, like successfully withstanding the competition with other service centers since 2001 and the opinions of our clients. They recommend U-line Ice Maker Repair to other people and leave tons of positive reviews and grateful words, which makes us happy and proves that we are doing great in our business!
Home Appliance Service Center cares for the most comfortable experience of using your electronics, so when it fails, we are ready to do our best and swiftly conduct the most reliable U-line Ice Maker Repair and Service at a favorable price for you. All you need for that is just to call us or fill in the form on our webpage, and all other procedures will be done by us in the most stressless way for you!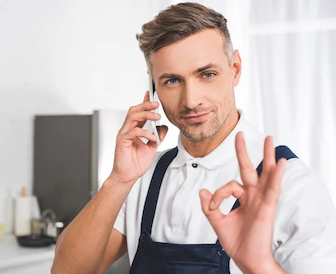 Main Reason to Choose Us
We've been repairing household appliances since 2001. Our experience is your guarantee of quality. We are ready to come to you on the same day and inexpensively carry out high-quality repairs. We use only original spare parts!

Labor Guaranteed
We provide a 90-day warranty on every repair for every client.

Same Day Service
We carry out repairs on the same day you call us in 95% of cases.

Licence & Insured
Each repairman who works for us has a license and insurance.
Choose the brand of your Refrigerator
We repair all popular models of residential appliances from major brands. Find your Refrigerator brand in the list below and click on it for helpful information. Call us or fill out the feedback form, and our repairman will come to you on the same day. Rely on us and we will prove that we are real professionals!