Kenmore Ice Maker Repair
If something goes wrong with it, besides just not having cooling cubes for your drinks, you may face unpleasant leakages on the floor if the item fails, so the situation needs to be fixed the soonest time. For this, just apply to Home Appliance Service Center, a reliable services provider with over 20 years of experience, and any issues will vanish as we provide Kenmore Ice Maker Repair in San Diego County under the best conditions.
Even while the variety of functions offered by the ice maker is not wide, to perform them correctly all the inner parts should be in the proper condition as even such a minor thing as a worn-out door hinge may influence the quality of ice cubes and overall work of the appliance. 
Without having specific experience and knowledge, it may not be that easy to detect the reason for the trouble, so the best idea is to call us and get a consultation Kenmore Ice Maker Repair and Service if you notice anything going not the way it used to be, like:
It does not produce any ice cubes;

Cubes cannot be ejected or keep falling into the ice basket even when it is full;

Ice cubes go out deformed, covered with ice mold, too small, or too big;

Cubes smell or taste bad;

The screen is not working or doing it wrong;

Water drops collect under the appliance;

You notice a puddle or drops of refrigerating coolant;

You hear knocking sounds from the ice maker.
For you, those things are just unpleasant signs or irritating failures, and for our Kenmore Ice Maker Repair, those are the symptoms that help to make a diagnosis and find the way of treating it the most effectively. One of the most common reasons to make your ice maker function wrong is the lack of proper maintenance, as its work gets worse when any details are clogged or frozen, like water lines, pumps, reservoirs, or filters. 
With time, some parts get worn out and also spoil the work of the appliance, so a replacement of wire, plug, seals, leveling feet, inlet pipes, supply valves, baffles, belts, bearings, buttons, door hinges, or inner tubes is often a solution to fix or prevent some breakages. 
And in other cases, our Kenmore Ice Maker Repair and Service fixes or replaces control arms, ice cutting mechanisms, control panels, fans, compressors, power switches, thermostats, or motors that are out of order. To know exactly how the issue should be solved and how much it will approximately cost, you can anytime call us for conducting remote diagnostics or having a free consultation.
Kenmore Ice Maker Repair for any model of any year of issue is what our technicians easily deal with. Each of them has the greatest skills, perfect knowledge, and vast experience in working with such appliances, so for every case, they pick perfectly fitting spare parts, needed professional tools, and materials and proceed with every needed action in the most accurate, swift, and proficient way. 
Their Kenmore Ice Maker Repair and Services make us sure of brilliant results and flawless quality of work and we confidently back it up with a long-term guarantee always, showing our reliability and responsibility.
For many clients, it is important not only HOW their ice maker will be fixed but also WHEN it is done, so we aim to finish all applications the same day we receive them. We do not face troubles with it as our local department in San Diego is open round-the-clock, which also lets us offer the departure of the technician to your address in 15 minutes after your call in cases of urgency at any moment of day or night, including non-working periods, with a slightly higher rate. 
But even with such an option, our prices are always the most affordable and we never recommend fixing your appliance if it is not cost-effective (like if the ice maker is beyond repair or the needed parts cost too much). We always clearly inform you about the condition of your appliance and what you pay for.
From the very beginning of our activity, we always put the opinion of our customers in the first place, as the most precise and fair estimation of the Kenmore Ice Maker Repair we provide and if we are moving in the right way for our development. 
We have got tons of positive reviews and know that many clients recommend us to others, noticing the friendliest and responsible attitude, outstanding quality of work, and ability to adjust to any requirements. It motivates us to become even better!
Now you know that to have the help of the most qualified specialists inHome Appliance Service Center  in San Diego, you can just call Kenmore Ice Maker Repair and Service or place an online application so your order will be resolved in the least stressful way, at the best price, soonest term and with maximum care to you and your appliance.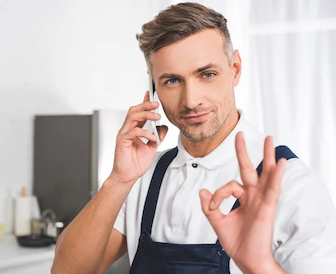 Main Reason to Choose Us
We've been repairing household appliances since 2001. Our experience is your guarantee of quality. We are ready to come to you on the same day and inexpensively carry out high-quality repairs. We use only original spare parts!

Labor Guaranteed
We provide a 90-day warranty on every repair for every client.

Same Day Service
We carry out repairs on the same day you call us in 95% of cases.

Licence & Insured
Each repairman who works for us has a license and insurance.
Choose the brand of your Refrigerator
We repair all popular models of residential appliances from major brands. Find your Refrigerator brand in the list below and click on it for helpful information. Call us or fill out the feedback form, and our repairman will come to you on the same day. Rely on us and we will prove that we are real professionals!