Maytag Cooktop Repair
To make the lifetime of your appliance longer and the most beneficial for you, Home Appliance Service Center offers the whole range of Maytag Cooktop Repair in San Diego County, always provided in the shortest terms and with maximum responsibility and care.
In over 20 years of experience with Maytag Cooktop Repair and Service for all possible models, including the rarest and old ones, we have figured out what troubles disturb owners of these appliances the most often:
Coils/induction elements not producing any heat, do it on a wrong temperature level, or too long, or go off themselves;

The control pad does not let you set a needed temperature or time, or the screen fails;

Pans heat unevenly;

Cooktop produces vibrations, smells, or indistinct sounds, like clicking, ticking, or buzzing;

Faulty sensors or damaged induction surfaces;

Bad coils connection;

Burners sparkle or the fire turns yellow, orange, or red;

Light indicators blink or do not work at all;

Gas lines are obstructed with grease;

A need to replace coils, heating modules, control pads, nobs, switches, buttons, valves, wires, pilot lights, etc.
If you think you have any of these problems, you can call Maytag Cooktop Repair at any time.
You will consult with Maytag Cooktop Repair and Service about the condition of your appliance, run a remote diagnostic that calculates an estimated repair cost, and set the time you would like a technician to arrive.
We usually complete all orders within a day, and it is always available as an additional feature of an urgent arrival in the shortest term after your call, even late at night or on a day off, for a small extra fee. And even in that case, Maytag Cooktop Repair offers only the most affordable and favorable prices for any work we do.
Our team Maytag Cooktop Repair and Services always treats every application with care and responsibility.
Which makes our clients fully satisfied with the Maytag Cooktop Repair we do for them. Their 5-start reviews are the best proof of that! Besides that, our reliability is shown with a long-term guarantee, provided in every case we proceed. 
With the greatest levels of knowledge, skills, and proficiency of our technicians and the best professional equipment, tools, materials, and original spare details, the result of our work is always flawless. Making your appliance work like a brand new one for a long time is our principal goal.
Our Home Appliance Service Center in San Diego is 24/7 ready to accept your request and adjust to any of your requirements to be the best help for Maytag Cooktop Repair and Service when you need it. We stand for quality and effectiveness of work, so if you are looking for decent maintenance of your appliance - call us or place an online application anytime!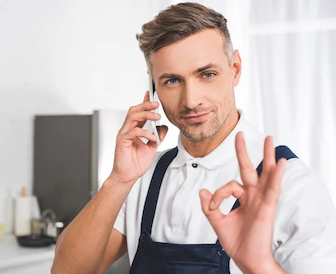 Main Reason to Choose Us
We've been repairing household appliances since 2001. Our experience is your guarantee of quality. We are ready to come to you on the same day and inexpensively carry out high-quality repairs. We use only original spare parts!

Labor Guaranteed
We provide a 90-day warranty on every repair for every client.

Same Day Service
We carry out repairs on the same day you call us in 95% of cases.

Licence & Insured
Each repairman who works for us has a license and insurance.
Choose the brand of your Refrigerator
We repair all popular models of residential appliances from major brands. Find your Refrigerator brand in the list below and click on it for helpful information. Call us or fill out the feedback form, and our repairman will come to you on the same day. Rely on us and we will prove that we are real professionals!