Samsung Cooktop Repair
The team of Home Appliance Service Center has been working tirelessly on developing skills and knowledge, so now all possible issues are familiar to us. Our technicians are able to find the best way to make a lifetime and perfect functioning of your device longer regardless of what model of oven you have, as they perfectly studied all the subtleties of the construction and processing of a proper work of all types of ovens. It lets us surely claim that by applying to us you will definitely get the most reliable and effective Samsung Cooktop Repair in San Diego County.
Cooktops are not constructed too compound, and in most cases to resolve any malfunctioning, it is needed to check an electricity or gas supply (cords, plug, igniter, pilot light, gas valve), to clean properly gas ports and surfaces (for induction ones it should be done carefully, as scratched induction surfaces may cause sensors to flip), or replace certain element (coils, burners, sensors, control module, indicators, switches, knobs, buttons). 
Our Samsung Cooktop Repair and Service indicate the reason for breakage in no time, so by calling us you will get an instant answer after just explaining which signs your cooktop shows. 
The most commonly, people complain about their cooktops not heating or getting hot too slowly, impossibility to set a needed temperature or time, flame shutting down, sparking, flickering or having a strange color, weird noises, vibrations or smells, uneven cooking the food, or not being able to turn the appliance on at all.
For ones who want to get their appliance working as soon as possible, the best option is a local Samsung Cooktop Repair, which offers resolving the issue on the same day, and additionally on days off or non-working hours for emergencies. And we are the match.
For ones who want to get the Samsung Cooktop Repair and Service done at a fair price, a needed choice is the company that cares for customers. It is usually seen in their excellent reviews or recommendations. And we are the match.
For ones who care the most for the quality of Samsung Cooktop Repair and a responsible attitude, the suitable service provider is a company with a long period of experience, a team of proficient specialists, the best equipment, original spare details, and a warranty for the work. And we are the match.
For ones who have doubts and want to get more details first, the right Samsung Cooktop Repair and Services to apply to is the one that offers free consultation and diagnostics, being ready to indicate the trouble remotely and announce the approximate cost of work beforehand. And we are the match.
Samsung Cooktop Repair matches all needs of clients, as a customer focus is the leading motive of our activity, and it gives the most precious fruits - trust, proven not just with words but with responsibility and the most careful attitude to every application we get.
You can rely on the Home Appliance Service Center any moment when you want to make your appliance perform flawlessly again. The top-notch Samsung Cooktop Repair and Service is easy to get the soonest time, we are round-the-clock waiting for your phone or online application.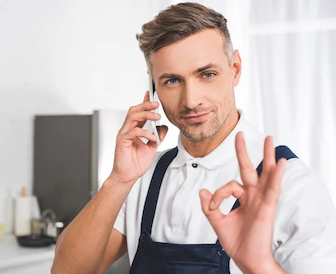 Main Reason to Choose Us
We've been repairing household appliances since 2001. Our experience is your guarantee of quality. We are ready to come to you on the same day and inexpensively carry out high-quality repairs. We use only original spare parts!

Labor Guaranteed
We provide a 90-day warranty on every repair for every client.

Same Day Service
We carry out repairs on the same day you call us in 95% of cases.

Licence & Insured
Each repairman who works for us has a license and insurance.
Choose the brand of your Refrigerator
We repair all popular models of residential appliances from major brands. Find your Refrigerator brand in the list below and click on it for helpful information. Call us or fill out the feedback form, and our repairman will come to you on the same day. Rely on us and we will prove that we are real professionals!