Viking Cooktop Repair
Even with the high level of quality, the appliance still may suffer from time or outer impacts, so sooner or later you may need to find a provider of a decent Home Appliance Service Center. You are lucky to have a local department of Viking Cooktop Repair in San Diego County around, as applying to us, you can always be sure of getting the quickest professional assistance at an affordable cost.
Viking Cooktop Repair and Service can claim to be a reliable service center for many reasons, and the main of them are successfully withstanding the competition since 2001, and a huge amount of clients, who are extremely happy with the repair we have done for them, so they show positive expression in 5-star reviews and by recommending us to others.
The most solid and precise result of Viking Cooktop Repair is what we always promise, so back it up with a long-term guarantee, being in charge of all we do and say. 
Exceptional skills, 20+ years of experience, and an outstanding knowledge of each detail and process in cooktops, combined with the best professional equipment, tools, materials, and original spare details mean your appliance runs like a brand new one, regardless of the complexity of a breakage, the condition, model, oldness, or rareness of the cooktop. 
Rarely, but it happens that it is more rational and cost-effective not to fix the old unit, but to buy a new one, and in that case, we will inform you at once!
It is quick and easy to get a full understanding of the situation, its solution, and an approximate cost of the repair. Viking Cooktop Repair and Service offer free consultation and diagnostics by call, so you can just explain what is wrong, and after a talk with our specialist, everything will be clarified. Mostly, when people apply for a cooktop repair, the issue is one (or several) from the next list:
The appliance does not work at all;

You notice troubles with electricity supply, like spoiled wires or plug;

The gas cannot be properly supplied as the pilot light or safety valve is faulty;

Burners are clicking, flickering, sparkling, have yellow/orange fire, or not giving out any flame;

Electric or induction elements/coils get not hot enough or too hot or do it too slowly;

Gas is leaking, so you can smell it;

The cooktop makes extrinsic sounds, and vibrates loudly;

Bulbs or light indicators are blinking or not producing any light;

Sensors are faulty or flip;

Coils have poor connections or are damaged;

Pans are heated unevenly or get black bottom after being used on the cooktop;

The whole appliance or any of the burners shut off themselves while cooking;

The screen shows an error, wrong information, or does not work at all, the control board fails and needs recalibration;

Gas lines are clogged with dirt or crumbs;

Malfunctioning, damaged or lost knobs, buttons, switches, or burner caps.
You can be sure that if you apply to us for Viking Cooktop Repair, any of those breakages and malfunctionings will be resolved exactly when you want them to! 
Our local department Viking Cooktop Repair and Services is open round the clock and, owing to perfect management, we arrange all the procedures swiftly and complete the task on the same day in over 95 percent of cases, unless you need another day.
Another option, which is offered at a slightly higher cost, is an urgent departure of the technician within 15 minutes after your application at any moment, even on a day off or during non-working hours, like a late night. Anyway, the price work Viking Cooktop Repair is always the fairest and the most favorable.
The friendliest managers and the most professional technicians know firsthand what you need when your appliance fails, so our Home Appliance Service Center can always provide you with the soonest Viking Cooktop Repair and Service of the highest quality and at an affordable price. Call us or fill in the form on our webpage, and your appliance will perform like a brand new one shortly!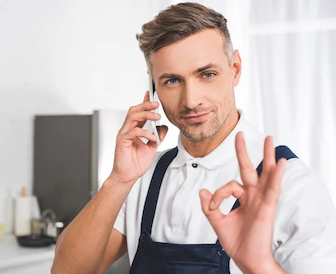 Main Reason to Choose Us
We've been repairing household appliances since 2001. Our experience is your guarantee of quality. We are ready to come to you on the same day and inexpensively carry out high-quality repairs. We use only original spare parts!

Labor Guaranteed
We provide a 90-day warranty on every repair for every client.

Same Day Service
We carry out repairs on the same day you call us in 95% of cases.

Licence & Insured
Each repairman who works for us has a license and insurance.
Choose the brand of your Refrigerator
We repair all popular models of residential appliances from major brands. Find your Refrigerator brand in the list below and click on it for helpful information. Call us or fill out the feedback form, and our repairman will come to you on the same day. Rely on us and we will prove that we are real professionals!