Thermador Wine Cooler Repair
Thermador wine coolers are appliances, which have a really important mission and successfully deal with it, as this company cares for the quality of its products, and you may be calm about the conditions in which your bottles are stored. But that is possible only when your appliance functions properly, what, unfortunately, does not last forever. If any malfunction appears, the best solution is to apply to the Home Appliance Service Center and things will get back to normal soon, as we provide the most reliable and time-effective Thermador Wine Cooler Repair in San Diego County at an affordable price!
Tons of people have already chosen our company and have not regretted it. Only because of the positive reviews they leave and recommendations to others to apply to us. We are confident in claiming the benefits of our service center.
We are fast
Having the wine cooler fixed on the same day when it got broken sounds too good to be true, right? But it is possible if you contact us as soon as you notice the trouble. We do not delay and always aim to resolve the issue in the shortest terms. If you have reasons to require an urgent Thermador Wine Cooler Repair and Service on a day off or during non-working hours, you can also rely on us. 
Our technician will depart to your place from the local office within 15 minutes after your call if you pick up an additional option of urgent arrival for a slightly higher price.
We are reliable
Among many companies around, it can be difficult to choose the right one, with the most responsible attitude and solid reliability. As Home Appliance Service Center is successfully withstanding the competition for over 20 years so far, we may consider our company as a reliable one, and, what is most important, our customers express the same opinion! 
Surely, those are not just empty words, and we are in charge of everything we say and do, so all Thermador Wine Cooler Repair conducted by us are always backed up with a long-term guarantee.
We are professional
No features of the repair center make sense when the quality of work is poor. Thus, in our development, we pay much attention to leveling up the skills of each technician daily. All of them are keen on electronics and perfectly know everything about the construction and functioning of wine coolers, so understanding the reason for breakage and eliminating it is always an easy task. 
With the help of the best-selected equipment, materials, and original spare details, there is no chance that your appliance will not work perfectly after a touch of our Thermador Wine Cooler Repair and Service technician. For any model, regardless of how rare or old it is, they can find the best approach and the most effective way to make its lifetime longer.
We are fair and honest
Always caring about your trust and comfort, we offer the most suitable conditions and clear information about each step of repair for each application. From the very beginning, when you call us for consultation or diagnostics, you get full information about the condition of your appliance, the way of resolving its failure, and its cost, if you explain to our Thermador Wine Cooler Repair specialist what is happening. 
That saves much time, and it is absolutely costless. When it comes to the very repair, you will always exactly know what you pay for. 
Sometimes it is not cost-effective to fix the failed wine cooler, and in that case, we will let you know about that and help to choose a replacement if you need it, as we do not want you to waste money. Thus, the price of our work is always the most affordable.
You may hesitate if the issue with your appliance is too minor to call a Thermador Wine Cooler Repair and Services technician. But it is better to make sure, as even dust buildups may influence its work and in the future lead to more serious breakages. For your wine cooler we can easily deal with:
The appliance which cannot be turned on at all;

The wrong temperature inside the unit, that cannot be adjusted to a needed;

Water drops condensing inside or outside the appliance, the moisture level is too high, so labels and corks are wet;

Door hinges or seals spoiled, so it cannot be tightly closed;

Any light (indicators, bulbs) burned out or going on and off;

Spoiled electricity supply due to worn-off wires or isolation;

Ice build-ups on condenser coils;

Unwanted vibrations or sounds, like bubbling or humming;

Dust or debris obstructing ventilation, condenser fan, or coils;

Failed thermostat, compressor, starter, capacitor, evaporator, the Peltier modules, process control block, sensors, or fan;

Lots of spoiled buttons, knobs, handles, leveling feet, bearings, etc.
Our experienced and friendly technicians at Thermador Dishwasher Repair will find the best solution for any situation you face!  
Home Appliance Service Center is a professional service center you can trust. To get the maximum benefit from your wine cooler, you should have it always functioning properly, so postponing the resolution of any breakage is not rational. Our team is always ready to provide you with help on any issue. To get the top-rank Thermador Wine Cooler Repair and Service, all that is needed is just to call us or place an online application!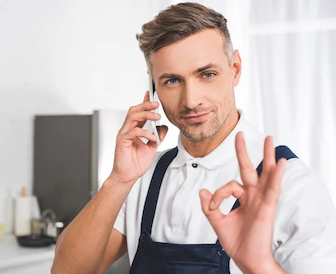 Main Reason to Choose Us
We've been repairing household appliances since 2001. Our experience is your guarantee of quality. We are ready to come to you on the same day and inexpensively carry out high-quality repairs. We use only original spare parts!

Labor Guaranteed
We provide a 90-day warranty on every repair for every client.

Same Day Service
We carry out repairs on the same day you call us in 95% of cases.

Licence & Insured
Each repairman who works for us has a license and insurance.
Choose the brand of your Refrigerator
We repair all popular models of residential appliances from major brands. Find your Refrigerator brand in the list below and click on it for helpful information. Call us or fill out the feedback form, and our repairman will come to you on the same day. Rely on us and we will prove that we are real professionals!