Undercounter Refrigerator Repair
If your commercial refrigerator breaks down, we strongly recommend that you entrust its repair to experts who understand the specifics of the commercial equipment. If the specialist is familiar with household appliances, this will not be enough. Commercial refrigerators are much more complex, with a design that is not intuitive. If you want the repair to be absolutely successful, entrust this work to the specialists of the Home Appliance Service Center. You can order Undercounter Refrigerator Repair in San Diego County, no matter what model you have. 
Experts know how to properly repair both the newest models and those that have long gone out of fashion. The complexity of the breakdown also doesn't matter to our Undercounter Refrigerator Repair and Service. We have encountered a lot of situations when the refrigerator received very serious damage, but our specialist quickly returned it to service.
Clients thank us for professionalism, high speed of work, and individual approach and communication skills in Undercounter Refrigerator Repairs. They do this not only in a personal conversation, but also on the Internet. 
To see reviews of people who have used Undercounter Refrigerator Repair and Service, you can go to Google or Yelp. There you will find a large number of positive comments that will convince you that we have the best technicians in San Diego County.
About the benefits you will enjoy if you contact us for help
One of the main advantages of our company is the high speed of work. To begin with, you will not have to wait long for help if you call us right now. Experience shows that in 95% of cases, our technician comes to the client on the same day. Firstly, the expert conducts an inspection of the equipment, a thorough diagnosis. 
The task is to find the cause of the breakdown. After this cause is found, the expert will proceed to the main part of the Undercounter Refrigerator Repair. These stages don't last long: in 90% of cases, the specialist manages to complete the task on the same day. Therefore, our company is very appreciated by people who need urgent repairs.
If we are talking about the quality of work, we need to remember an important factor: we use only original spare parts. We don't compromise by buying cheap fakes that can fail at any moment. If you order Undercounter Refrigerator Repairs and Services from our company, you will protect yourself from low quality parts.
After our specialist has finished his Undercounter Refrigerator Repair, he will provide you with a 90-day warranty. This is a classic version of the warranty. If you encounter any problems in the future, it will not be your concern, but the concern of our specialists. Warranty repairs are free. You can also get consultation at any time: if you have any questions, you just need to call us.
If you notice a malfunction, it is important not to waste time in this situation. Order Home Appliance Service Center immediately! Call the phone number listed on the site. Our specialist Undercounter Refrigerator Repair and Service will call you back shortly at the number you provided. He will offer you to choose the time when our expert should come to you.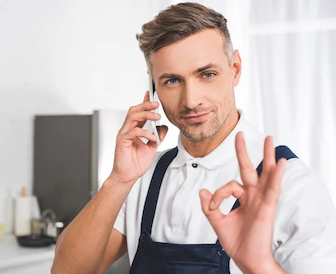 Main Reason to Choose Us
We've been repairing household appliances since 2001. Our experience is your guarantee of quality. We are ready to come to you on the same day and inexpensively carry out high-quality repairs. We use only original spare parts!

Labor Guaranteed
We provide a 90-day warranty on every repair for every client.

Same Day Service
We carry out repairs on the same day you call us in 95% of cases.

Licence & Insured
Each repairman who works for us has a license and insurance.
Choose the brand of your Refrigerator
We repair all popular models of residential appliances from major brands. Find your Refrigerator brand in the list below and click on it for helpful information. Call us or fill out the feedback form, and our repairman will come to you on the same day. Rely on us and we will prove that we are real professionals!