GE Profile Range Repair
Ranges are reliable household appliances. It is liked and loved by many housewives for its versatility, reliability, and versatility. But no matter how reliable and high-quality your appliances are, they still have their lifespan and can fail. Home Appliance Service Center is a reliable and trusted appliance and commercial appliance repair and service center. A range is a premium appliance, and not every handyman can take on this kind of appliance repair. But not us! Order service from our master GE Profile Range Repair in San Diego County and your appliance will once again delight you with excellent baking and culinary masterpieces.
Quality range repair
Combination range models offered today refer to high-tech equipment. Often these ranges are endowed with quite sophisticated technologies, including grill, convection, self-cleaning and 3D-heating functions. They are also equipped with grease filters and have a catalytic coating. These innovations certainly speed up the cooking process and the cleaning that follows. But the breakdown of one of the elements can lead to real difficulties and failure of the entire combination range. Preventive maintenance performed in a timely manner by GE Profile Range Repair and Service technicians can prevent breakdowns and extend the life of your range.
What kinds of malfunctions are addressed to our service center
It has long been proven that breakdowns most often occur due to negligent and careless handling of appliances, not following the rules of operation and ignoring preventive maintenance.
Our GE Profile Range Repair technicians repair the following breakdowns:
Damage to the wiring of a mechanical nature.

Gas burner does not ignite, electric ignition does not work.

Due to incorrect detection of the load on the network - wear and tear of the electrical wiring.

Damage of burners (they go out, smoke, or do not light up at all).

Damage to the burner switches.

Malfunction of the range's thermostat (weak or excessive heating of the range, uneven heating).

Problems with temperature switching and mode selection.

Malfunction of the electronic control boards.

The set temperature does not match the actual temperature when heated.

Startup and shutdown options do not work.

Range- No gas supply to the burner.

Gas goes out or burns weakly when the range is in operation.

Gas leakage (a problem with the appliance itself or a leak in the gas line).
The faulty operation may be the result of improper installation of the appliance, constant violation of the operating conditions and the wear and tear of the parts. Our GE Profile Range Repair and Service technicians are officially certified to work with gas equipment.
Our firm performs the following types of service:
Removing/assembling the range from the kitchen unit.

Diagnostics with modern tools and instruments.

Elimination of gas loss (leaks).

Replacement, cleaning of burners.

GE Profile Range Repair technicians replace fans, sensors, relays, thermostats, solenoid valves, thermocouples, and heaters.

Replacement of the fan, sensors, relays, thermostats, solenoid valve, thermocouple, and heating elements.

Replacement of mechanical damages of glass seals.
Why customers choose us:
We offer expert service. Range Repair is performed by GE Profile Range Repair and Services specialists with extensive experience in the field.

Home Repair. No need to take a heavy and cumbersome range anywhere - our specialist will come himself.

Minimum waiting. For us every call is urgent.

Master arrives at a convenient time for you, even at weekends.

In most cases, we bring the device back to life in one visit. A specialist on your request determines the possible cause of the malfunction and arrives with a set of necessary tools and spare parts.

The GE Profile Range Repair technician comes at your convenience, even on weekends.

We work only with original spare parts from the manufacturers.

Free informational assistance to the customer on matters of interest in the operation of equipment.

For all types of work and installed spare parts we provide a guarantee.
Home Appliance Service Center offers fast, quality kitchen appliance Repair. Independent attempts to adjust the work of the range can lead to a complete loss of performance of the device and, as a consequence, the unforeseen cost of buying a new device. Don't risk your safety and your equipment. Leave it to the professionals at GE Profile Range Repair and Service. And you're assured of a highly qualified service with a guarantee for the services provided.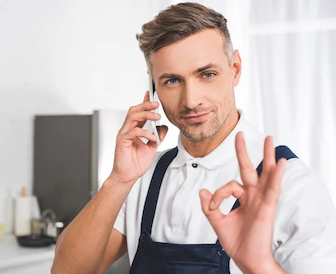 Main Reason to Choose Us
We've been repairing household appliances since 2001. Our experience is your guarantee of quality. We are ready to come to you on the same day and inexpensively carry out high-quality repairs. We use only original spare parts!

Labor Guaranteed
We provide a 90-day warranty on every repair for every client.

Same Day Service
We carry out repairs on the same day you call us in 95% of cases.

Licence & Insured
Each repairman who works for us has a license and insurance.
Choose the brand of your Refrigerator
We repair all popular models of residential appliances from major brands. Find your Refrigerator brand in the list below and click on it for helpful information. Call us or fill out the feedback form, and our repairman will come to you on the same day. Rely on us and we will prove that we are real professionals!