GE Range Repair
Household appliances serve their owner for a long time, not only if he handles it carefully and follows all the rules of operation. The key to the durability of the equipment is also the correct repair, the use of original spare parts. If you want your range to be repaired by a true professional, contact the Home Appliance Service Center. We are very familiar with household appliances from General Electric. After many years of working with this product, GE Range Repair in San Diego County has concluded that this is one of the most technologically advanced.
Our GE Range Repair and Service are aware of all the features of this equipment, thanks to which they perform their work flawlessly. Hundreds of customers have already seen this. 
To read reviews from people who have used GE Range Repair, you can go to Google or Yelp. Contact us for help and you will become another client who is ready to recommend us to friends and family. We carry out repairs with a guarantee of quality. Each customer receives a 90-day warranty. 
That means our experts provide full support for 3 months. You can call us any day, as we work on weekdays, holidays, and weekends. Everything so that you can get professional help any day!
Need a quick repair? You've come to the right place!
We know how it sometimes happens: you turn to a repair company for help, and the specialists tell you that you will have to wait several days or even weeks. Sometimes the reason is too high complexity of work, sometimes you must wait a long time until the required spare part is delivered. We work differently. If you order our GE Range Repair and Service, you will get help in no time. Now we will explain how we manage to work at lightning speed.
In 95% of cases, our GE Range Repair comes to the client on the same day. The fact is that we quickly respond to every call, and our specialist doesn't need to spend a lot of time on the road, since we are not far away from our clients. 
Most likely, the GE Range Repair and Services will be at your house within a few hours after we accept your application. Another important factor is our large warehouse. This facility stores many spare parts for General Electric appliances. Thanks to this, in most cases, we don't need to order a new part and wait for it to be delivered to us. This warehouse also stores the equipment for diagnostics and Repair.
After all, our technicians have extensive experience working with General Electric household appliances. Repairmen don't spend much time identifying the cause of the breakdown and fixing the problem. If you use our GE Range Repair, your range will be restored in no time, trust us!
How to use Home Appliance Service Center services
We've tried to make sure that customers who turn to us for help spend as little time and effort as possible. You only need to make one call. Find the phone number on the website. You can also use an alternative option by filling out the feedback form. After a short time, our manager Home Appliance Service Center will contact you to agree on the details. You will need to briefly describe the breakdown and say what range model you have. After that, you will need to wait a bit, and our specialist will come to you. If you use our GE Range Repair and Service, you will be satisfied with the individual approach, high quality repair and pleasant communication with our employees!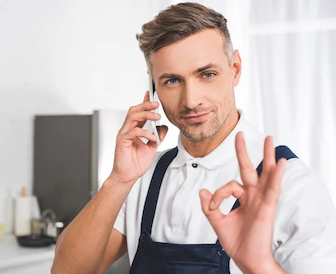 Main Reason to Choose Us
We've been repairing household appliances since 2001. Our experience is your guarantee of quality. We are ready to come to you on the same day and inexpensively carry out high-quality repairs. We use only original spare parts!

Labor Guaranteed
We provide a 90-day warranty on every repair for every client.

Same Day Service
We carry out repairs on the same day you call us in 95% of cases.

Licence & Insured
Each repairman who works for us has a license and insurance.
Choose the brand of your Refrigerator
We repair all popular models of residential appliances from major brands. Find your Refrigerator brand in the list below and click on it for helpful information. Call us or fill out the feedback form, and our repairman will come to you on the same day. Rely on us and we will prove that we are real professionals!