Magic Chef Range Repair
Ranges of this brand are an often choice for everyday usage in many kitchens, but, as any other appliances, they can be harmed, or get any detail worn, or just need proper maintenance and it is wise to get the help of qualified specialists for resolving any malfunctioning or breakages. Home Appliance Service Center offers the quickest and most reliable solution for any type of Magic Chef Range Repair in San Diego County, taking into account all the needs of every single customer. 
We surely claim the best level of Magic Chef Repair and Service provided by our specialists because with over 20 years of experience we studied all the requirements of our clients and offer the most flexible conditions, which can be adjusted to you perfectly. 
The time of arrival depends on when it is suitable for you. We usually cover all the tasks within a day unless you want it to be different. 
It is always possible also to order the arrival of a Magic Chef Repair at the soonest possible time after your call, even late at night or on non-working days, for a small additional payment. 
The cost of the work is always favorable, but in the case of need, we can make changes, picking other spare details or materials for work. Normally, we use the best professional equipment and spare parts to be sure of the most precise work.
You can be calm when you apply to us for Magic Chef Repair and Service for an old or rare item, as we still will find a way to deal with it with maximum care and responsibility. Finding the failed part and resolving the issue is a quick and simple task for our qualified technicians due to facing similar cases many times before and refining skills and knowledge all the time. 
You can just call Magic Chef Repair and tell us what issues you've faced, and it will let the specialist estimate the condition of the appliance, the needed actions for its repair, and the cost of work, that is why we always recommend you to get a consultation or a remote diagnostics for free beforehand. Common troubles with ranges, which we resolve the most often, are:
It cannot be turned on or off;

Burners or induction coils produce no heat;

Heating/broiler elements are not working or taking too long to reach the needed temperature; 

Controllers or control modules fail, so you cannot adjust time or temperature;

While working, the range vibrates, or produces unusual noises or smells (especially dangerous is the smell of gas!);

The flame goes out itself, flickers, sparkles, or goes yellow or orange;

The food is not cooked or heated evenly;

Pans get a black bottom;

Surfaces of door assembly/glass are cracked;

The door gasket, hinges, or springs bent out/work out and need a replacement;

Gas or electricity is not supplied properly.
For resolving those issues, our Magic Chef Repair and Services always picks the most effective option. Sometimes it is resolved by just a proper cleaning of gas lines, convection fan, or vent tube, switches, or handles. 
One of the most pleasant phrases we hear from new customers is "My friend told me about your Magic Chef Repair, he was glad", and it happens often, as many of our customers are fully satisfied with the way we do our work, and we also notice it by positive words they leave in reviews. 
Home Appliance Service Center having the appliance working great again in a short time and at a low price, clinching with a long-term guarantee is what everyone wants to get and we give it to all clients for every application. And you can get the best Magic Chef Range Repair and Service anytime from your local department by just calling us or placing an online application.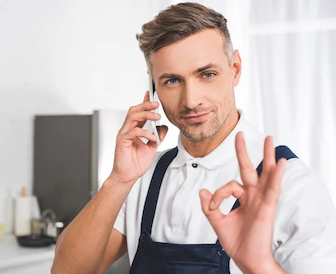 Main Reason to Choose Us
We've been repairing household appliances since 2001. Our experience is your guarantee of quality. We are ready to come to you on the same day and inexpensively carry out high-quality repairs. We use only original spare parts!

Labor Guaranteed
We provide a 90-day warranty on every repair for every client.

Same Day Service
We carry out repairs on the same day you call us in 95% of cases.

Licence & Insured
Each repairman who works for us has a license and insurance.
Choose the brand of your Refrigerator
We repair all popular models of residential appliances from major brands. Find your Refrigerator brand in the list below and click on it for helpful information. Call us or fill out the feedback form, and our repairman will come to you on the same day. Rely on us and we will prove that we are real professionals!