Whirlpool Range Repair
Most Americans have heard the Whirlpool name, and a huge amount of them have at least one appliance of this brand in their own house. As much as this manufacturer cares for the quality of appliances, the same (and even more) we care for the quality of Home Appliance Service Center. Shortest terms, best prices, and flawless results are what Whirlpool Range Repair in San Diego County guarantees for every order we take.
To be able to take responsibility for caring for top-notch ranges, like Whirlpool ones, a service provider should have a team of highly qualified specialists with vast experience, exceptional skills, and perfect knowledge of everything on a topic. 
Our professionals have that all. With over 20 years of tireless work and development, they can easily deal with Whirlpool Range Repair and Service for any model, even the oldest and the rarest ones. 
It opened another opportunity - to conduct a consultation or diagnostics remotely Whirlpool Range Repair, which can show if to solve the trouble you need just to clean gas ports, vent tubes, and convention fan from grease and dust, or if the range is beyond repair at all, what will be told to you at once. 
Still, in most cases, when you call for that, you get a clear vision of the problem, the solution, which should be provided by a qualified person to ensure safe and precise actions, and the approximate cost of it, which is always fair and affordable. 
We also have the best professional tools, materials, and original spare details, which rarely are owned or can be easily found by people who are not working in Whirlpool Range Repair and Service sphere, so with the help of them, we can promise even more accurate and the swift results of work, always having a long-term warranty added to it.
As the primary function of the range is producing heat, the most common complaint we face is that any heating elements are not warming up or doing it wrong. It can be caused by different reasons, and only cognizant specialists may exactly indicate it. 
Not to bore you with types of breakages, we offer you to look through the list of most common signs, which show that your range needs an assistant of a technician Whirlpool Range Repair:
Burners are clicking while turning on, the flame is sparkling, or flickering;

The range creates indistinctive sounds while working;

The flame goes yellow, orange, or red;

The appliance does not turn on or it shuts off itself;

Heating up of coils, tans, induction elements, broilers, or baking elements takes too long or cannot reach the needed level;

Timers and controllers do not function properly;

Information screen shows an error or does not work at all;

Light indicators or bulbs flashing or not shining;

The door cannot be properly closed;

The food is not prepared or heated evenly;

You smell gas or burn.
If you face any of that, the breakage may be hidden in a failed thermostat, igniter, or safety valve, and require a replacement of any parts. 
More obvious troubles, like cracked surfaces or door glass, bent-out hinges, spoiled drawer mechanisms, grates, burner covers, lost knobs, buttons, switches, or handles, are not causing any difficulty for our specialists as well Whirlpool Range Repair and Services.
For the absolute majority of applications for Whirlpool Range Repair, we find the way out the same day when you apply. If it is an urgent situation, like gas leakage, or you just want it the soonest time for personal reasons, for a small additional payment you can request for the departure of our technicians to your address in 15 minutes after your call even at late night or non-working days.
Good words are easy to say but hard to prove. But our company managed to gain the trust of hundreds of people, which is shown in their positive reviews and in the fact that they recommend us to friends and others. We believe it is the most solid proof of all the benefits we have mentioned.
Our local Home Appliance Service Center works round the clock, so by applying us at any needed moment, you may be sure that we will come and help in any situation, providing you with the most responsible and friendly attitude, punctual arrival, and the Whirlpool Range Repair and Service of the highest quality! All you need is just contact us in any suitable way!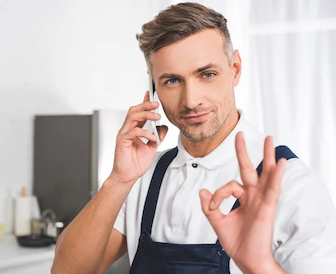 Main Reason to Choose Us
We've been repairing household appliances since 2001. Our experience is your guarantee of quality. We are ready to come to you on the same day and inexpensively carry out high-quality repairs. We use only original spare parts!

Labor Guaranteed
We provide a 90-day warranty on every repair for every client.

Same Day Service
We carry out repairs on the same day you call us in 95% of cases.

Licence & Insured
Each repairman who works for us has a license and insurance.
Choose the brand of your Refrigerator
We repair all popular models of residential appliances from major brands. Find your Refrigerator brand in the list below and click on it for helpful information. Call us or fill out the feedback form, and our repairman will come to you on the same day. Rely on us and we will prove that we are real professionals!