Thermador Range Repair
Even without extra harsh strains, the normal functioning of such appliances may get spoiled due to wrong maintenance, voltage issues, accidents, etc. Mostly, having the appliance failed, people get stressed about the waste of time, money, and nerves while dealing with this situation, but Home Appliance Service Center offers the best option, protecting you from that all! Applying to us, you always get the top-quality Thermador Range Repair in San Diego County in the shortest term and at the most favorable price.
To make your appliance run like a clock in the most effective way, we advise you to call Thermador Range Repair and Service as soon as you notice anything to be wrong with it, as the longer you postpone resolving the issue, the worse it may become. 
Thermador Range Repair offer free consultation and diagnostics, so it is the most beneficial way to find out the condition of your range, the way to fix it, and how much approximately it is going to cost. In some cases, we may conclude that the best solution is to buy a new item, or that your problem may be eliminated in minutes by cleaning gas ports, vent tubes, or convention fans. 
But mostly, the technician comes to your place on the same day, or any other suitable time, and quickly makes all unpleasant things vanish, conducting Thermador Range Repair and Service accurately and quickly, regardless of the complexity of the breakage and how old or rare is your range. The most common complaints about these appliances are:
It is not possible to turn it on or off;

The whole unit or any of its parts vibrates, buzzes, hums, clicks, ticks, grinds, or produces other unwanted sounds;

The burners heat too much or weakly, flicker, sparkle, do not produce the flame at all, or it goes yellow or orange;

Induction surfaces are damaged (what causes sensors to flip), or do not produce any heat;

Any of the heating elements do not function properly and need to be replaced or fixed (tans, burners, broiling elements, baking elements, electrical or induction coils);

While working, the appliance or the flame shuts off abruptly;

Troubles with the supply of electricity (wires, isolation, cords), or gas (gas lines, igniter, safety valve) supply;

Uneven heating and cooking; pans and pots get a black bottom after being used in/on the range;

Smells or burns or gas (pay special attention to possible gas leakages!);

Troublesome flashing lights, burned-out bulbs, which are blinking or not shining at all;

Failed control module, what is noticed by the inability to set the needed temperature or time, an error or weird/no information on the screen;

The door cannot be normally closed or opened, as seals, hinges, or springs are worn off or lost;

Cracked door glass or any other surfaces;

Spoiled or old handles, buttons, knobs, switches, seals, valves, grates, burner caps, fan blades or baffles, drawer mechanisms, or light bulb assemblies, needed to be replaced;

Failed thermostat, convection fan, heaters, circuit board, etc.
When we indicate that some spare parts should be replaced, we pick the best original ones to ensure a flawless result and a longer life for your appliance. 
All the tools, equipment, and materials are top-notch, which helps our qualified Thermador Range Repair to reach even more precise, reliable, and swift work. With over 20 years of experience and constantly developing, they always pick the most effective ways of repair, and it is always provided with a long-term guarantee.
If you need to get assistance urgently, we are still here for you! The Thermador Range Repair and Services San Diego department is open round the clock, and for a small extra payment, our technician will start his way to your address 15 minutes after you apply for it, even on days off, late nights, or other non-working periods.
In the long term of our work, we have faced not only many different electronics and conducted numerous Thermador Range Repair but also met plenty of their owners, and listening to their opinions helps us to get only better. 
For now, we are happy to see tons of positive reviews about our work, and the amount of them is only rising, as our satisfied customers share the expression among friends as well.
If you are looking for a Home Appliance Service Center that can fix your range and provide you with the best responsible attitude, affordable prices, the quickest timing, and brilliant quality of Thermador Range Repair and Service, then applying to us is the best idea! We are always ready to accept your call or online application, and after that everything will be done in the most comfortable and stressless way for you!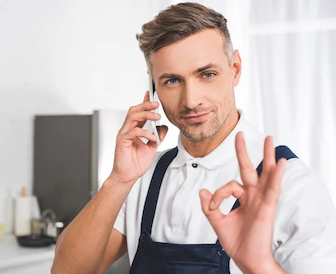 Main Reason to Choose Us
We've been repairing household appliances since 2001. Our experience is your guarantee of quality. We are ready to come to you on the same day and inexpensively carry out high-quality repairs. We use only original spare parts!

Labor Guaranteed
We provide a 90-day warranty on every repair for every client.

Same Day Service
We carry out repairs on the same day you call us in 95% of cases.

Licence & Insured
Each repairman who works for us has a license and insurance.
Choose the brand of your Refrigerator
We repair all popular models of residential appliances from major brands. Find your Refrigerator brand in the list below and click on it for helpful information. Call us or fill out the feedback form, and our repairman will come to you on the same day. Rely on us and we will prove that we are real professionals!