Electrolux Refrigerator Repair
There are many models of Electrolux refrigerators. There are single-chamber and two-chamber refrigerators, with and without the No Frost function, with and without a freezer. There are built-in and classic models. Whatever refrigerator you have, the Home Appliance Service Center can repair it. Our repairmen have certificates that prove their professionalism. Here's some more good news for you: we provide a 90-day guarantee to every customer. With Electrolux Refrigerator Repair in San Diego County, you can be sure of a positive result!
Home Appliance Service Center works well and quickly
We employ real professionals in their field who know literally everything about the Electrolux Refrigerator Repair and Service of household appliances. Each specialist of our company has a certificate and license, which confirm the high level of employees. Our repairmen are constantly developing their skills, and each of our customers enjoys the benefits of this responsible approach. 
To verify this, go to Google or Yelp and read the reviews of people who have already used our Electrolux Refrigerator Repair. Employees of our company know everything about modern household appliances. 
They regularly attend training at manufacturers' factories, where they gain valuable knowledge and experience. Specialists work equally effectively with old models of equipment, as well as with the most technologically advanced, made according to the latest standards.
Just because our experts pay a lot of attention to every Electrolux Refrigerator Repair and Service doesn't mean the job is time consuming. Modern equipment and vast experience allow repairmen to quickly find the cause of the breakdown and eliminate it. In addition, the good news for you is that a specialist comes to the client on the same day in 95% of cases. 
Urgent Electrolux Refrigerator Repair is what we are great at. We have a large warehouse where spare parts for Electrolux household appliances are stored. If a part replacement is needed, we will not have to wait for delivery. 
We will simply take the required item in stock and quickly carry out Electrolux Refrigerator Repair and Services. If you were looking for a company that combines the highest quality of work and promptness, you have come to the right place! Home Appliance Service Center will meet your expectations.
Common breakdowns of Electrolux refrigerators
Look at the problems most often complained about by customers who use the Electrolux Refrigerator Repair.
The refrigerator makes a strange noise.

Ice builds up on the freezer walls.

The refrigerator with No Frost system doesn't turn on (cause may be failure of No Frost sensors).

The refrigerator cools food too weakly or too much, not responding to the owner's selection of the temperature.

Water is leaking from the refrigerator.

The household appliance doesn't pause, it works constantly.

Refrigerator doesn't turn on.
The cause of these problems may be the failure of any part: thermostat, control module, motor-compressor, and so on. We strongly don't recommend trying to repair it yourself, as Electrolux refrigerators have a complex construction. Better use Electrolux Refrigerator Repair and Service. Call Home Appliance Service Center or fill out the feedback form.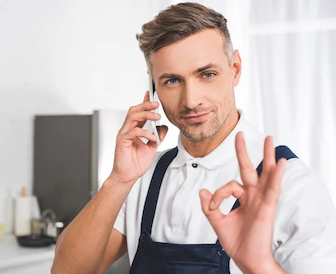 Main Reason to Choose Us
We've been repairing household appliances since 2001. Our experience is your guarantee of quality. We are ready to come to you on the same day and inexpensively carry out high-quality repairs. We use only original spare parts!

Labor Guaranteed
We provide a 90-day warranty on every repair for every client.

Same Day Service
We carry out repairs on the same day you call us in 95% of cases.

Licence & Insured
Each repairman who works for us has a license and insurance.
Choose the brand of your Refrigerator
We repair all popular models of residential appliances from major brands. Find your Refrigerator brand in the list below and click on it for helpful information. Call us or fill out the feedback form, and our repairman will come to you on the same day. Rely on us and we will prove that we are real professionals!