Sub-Zero Refrigerator Repair
Sub-Zero Refrigerator Repair in San Diego County is a highly requested service as we use the refrigerator daily. If you are looking for professionals who can quickly repair refrigerators, contact the Home Appliance Service Center.
Having the refrigerator failed, people usually want to have it back to normal ASAP but are afraid of long expectancy, high price, or not the decent level of services. Applying to us, you need only to explain what happened, or even just pick the time when the Sub-Zero Refrigerator Repair and Service master comes and learns of the issue himself.
We will take care of getting the needed tools and details, finding the reason for the trouble, and arranging all the processes quickly, accurately, and at the best affordable price. Your comfort is the main thing for us, that is why we are ready to send the Sub-Zero Refrigerator Repair technician from our local department to your address within 15 minutes after your call.
Even late at night, this will fairly cost a bit more. In any situation, you may expect to get a perfectly working appliance the same day. No matter what its model is, we can deal with any Sub-Zero refrigerator.
You also may not be sure if you need the help of the technician at all. We recommend you apply us to get Sub-Zero Refrigerator Repair and Service if you notice that your appliance:
Doesn't work at all or its work is interrupted itself periodically.

Has worn or torn wiring.

Not freezing enough, at all, or does it too much.

Cannot be properly opened or closed, as a door gasket or switcher is spoiled.

Got broken shelves, handles, buttons, or other parts.

Vibrates or creates strange noises.

Does not show proper info on a screen.

Produces ice mold, which covers inner walls or products.

Needs a renovation of body surface or doors.

Has its freezer, ice maker, or water dispenser running wrong.

Creates leakages of freon or water.

Got no light from a bulb or indicators.

Needs fixing or replacement of control relay, condenser coils, tans, evaporator, timers, heater, compressor, or temperature control.
This list can be widened, but still, any issue will be familiar and possible to solve by our Sub-Zero Refrigerator Repair specialists. On those rare occasions when the appliance is beyond repair, you will be informed at once.
To get information about the condition of your appliance and the cost of Sub-Zero Refrigerator Repair and Services, it is smart to get a consultation or diagnostics by calling first. It helps to save both your and our time, so when the technician comes to you, he already knows what the situation is and which spare parts he needs.
Sub-Zero Refrigerator Repair uses only professional equipment and original details, so there may be no doubt that after the repair, you will face no tottering, creaking, or any signs of unfitting elements. Together with the experience and skills of our masters, it ensures the highest quality and reliability of provided work.
Home Appliance Service Center wants you to feel secure after the repair is done, so we are always back it up with a long-term guarantee to show our responsibility. This and other features of our company have already brought us hundreds of glad customers, who never regret applying for us, do that again when such a need appears, and share positive reviews about us among friends and on the net. For experiencing the best Sub-Zero Refrigerator Repair and Service, you need to do just a single call. We are always available for you!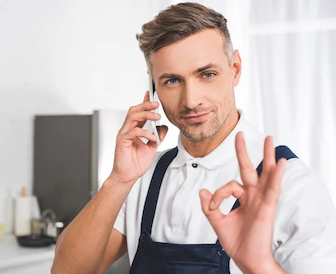 Main Reason to Choose Us
We've been repairing household appliances since 2001. Our experience is your guarantee of quality. We are ready to come to you on the same day and inexpensively carry out high-quality repairs. We use only original spare parts!

Labor Guaranteed
We provide a 90-day warranty on every repair for every client.

Same Day Service
We carry out repairs on the same day you call us in 95% of cases.

Licence & Insured
Each repairman who works for us has a license and insurance.
Choose the brand of your Refrigerator
We repair all popular models of residential appliances from major brands. Find your Refrigerator brand in the list below and click on it for helpful information. Call us or fill out the feedback form, and our repairman will come to you on the same day. Rely on us and we will prove that we are real professionals!