GE Monogram Refrigerator Repair
General Electric is one of the most "creative" home appliances brands. Therefore, when repairing such refrigerators, you shouldn't be guided by templates, but you need to use an individual approach to each "patient". Only true professionals can properly complete this task. Home Appliance Service Center specialists are just such professionals. We have been providing GE Monogram Refrigerator Repair in San Diego County since 2001. Few companies can boast such extensive experience! 
During GE Monogram Refrigerator Repair and Service, we've gained the skills to quickly provide repair, even if there was a complex breakdown. In addition, we make our customers happy by the fact that we almost always come to them on the day of the call. 
When can the Home Appliance Service Center help you?
The answer to this question is very simple: if you have a GE Monogram refrigerator and it breaks down, you can contact us for GE Monogram Refrigerator Repair. For us, it really doesn't matter what kind of breakdown happened. More than 20 years of experience is a strong argument in favor of our company. 
During this time, we have learned to skillfully cope with even the most complex problems: for example, if the refrigerator does not show signs of life at all or several parts fail at once.
Here are some examples of breakdowns that are frequently reported to us by customers who use GE Monogram Refrigerator Repair and Service:
The refrigerator makes a strange sound.

There is a burning smell.

The refrigerator runs without pauses (the refrigerator makes constant sound).

Food is not cooled well enough and spoils quickly.

The refrigerator cools the food too much (for example, ice crust forms on the surface of soups).

Water flows from below.

The door of the refrigerator or freezer doesn't close tightly.

The door is difficult to open.
If you notice any problem, don't worry. 99% of breakdowns can be eliminated, and only very rarely do household appliances fail completely and cannot be repaired. In some cases, our specialists provide GE Monogram Refrigerator Repair.
We keep all the necessary spare parts in a warehouse, so we can get to work right away without wasting time. The speed of work is what our clients love us for. Experience all the benefits of working with the GE Monogram Refrigerator Repair and Services in practice!
Reasons to trust us to repair GE Monogram refrigerators
Let's look at some facts that will convince you to use our GE Monogram Refrigerator Repair. 
We use original spare parts. Thanks to this, the refrigerators that we've repaired serve for a long time and reliably.

We can repair any GE Monogram refrigerator model. Our experts are real all-rounders! Repairmen can restore residential and commercial appliances, an old refrigerator or one of the latest models.

We provide a 90-day warranty to every customer. Within 3 months you can count on us. For example, if you have questions, you can call us any day. If the failure occurs again (which is very unlikely), the repairman will come and quickly solve your problem.
There is no reason not to use our services if your refrigerator breaks down. We will do the job quickly, professionally and provide a quality guarantee. What more could you want? 
In order to use a GE Monogram Refrigerator Repair and Service, call Home Appliance Service Center at the phone number listed on the website or fill out the feedback form. Let our manager know the time when it will be convenient for you to meet our repairman.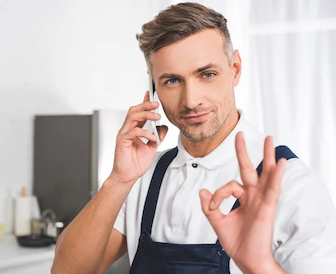 Main Reason to Choose Us
We've been repairing household appliances since 2001. Our experience is your guarantee of quality. We are ready to come to you on the same day and inexpensively carry out high-quality repairs. We use only original spare parts!

Labor Guaranteed
We provide a 90-day warranty on every repair for every client.

Same Day Service
We carry out repairs on the same day you call us in 95% of cases.

Licence & Insured
Each repairman who works for us has a license and insurance.
Choose the brand of your Refrigerator
We repair all popular models of residential appliances from major brands. Find your Refrigerator brand in the list below and click on it for helpful information. Call us or fill out the feedback form, and our repairman will come to you on the same day. Rely on us and we will prove that we are real professionals!