Jenn-Air Refrigerator Repair
The logic is simple: if your Jenn-Air refrigerator breaks down, you should trust its repair to specialists who have experience in repairing such household appliances. If you use the services of a professional who knows all these subtleties, the repair will certainly end successfully. Home Appliance Service Center was founded in 2001. If you use our services, you entrust the repair to a certified specialist, whose high level is documented. Another reason to use our Jenn-Air Refrigerator Repair in San Diego County service is speed of work. 
In 95% of cases, we come to the client on the same day since we are not far away. In addition, all the necessary spare parts and equipment are stored in our warehouse, which allows us to immediately begin to carry out Jenn-Air Refrigerator Repair and Service.
Common breakdowns of Jenn-Air refrigerators
Let's look at a list of common breakdowns of this household appliance. These issues are the most frequently reported by customers who use our Jenn-Air Refrigerator Repair. Of course, these are not all breakdowns that are eliminated by the specialists of our company. 
You can contact us for Jenn-Air Refrigerator Repair and Service, no matter what problem you have.  So, let's go to the list.
Refrigerator turns off by itself immediately after being turned on.

Control buttons or displays don't work.

The refrigerator doesn't cool food well enough, or the temperature is too low.

The doors of the refrigerator or freezer don't close properly.

Water is leaking from below.

There is always a lot of ice in the freezer.

There is a burning smell.

The power cable is damaged.

The refrigerator constantly emits a sound, that is, it works without pauses.
Breakdowns should not be underestimated. As soon as you notice that your appliance is malfunctioning, call us right away. Our specialist will quickly carry out Jenn-Air Refrigerator Repair, possibly, save you money. The fact is that many breakdowns over time cause serious damage to the equipment and can even completely disable the refrigerator.
Do you have questions about our company in general or any Jenn-Air Refrigerator Repair and Services? Call us any day. Rest assured; our manager will provide you with all the necessary information.
Home Appliance Service Center finds a way out of even the most difficult situations
Sometimes we hear stories that the owner of the refrigerator buys a new model because the old one seemed "hopeless" to him. Don't rush to conclusions! A refrigerator is an expensive household appliance, and every opportunity should be taken to repair an old one. Don't waste your money, use the Jenn-Air Refrigerator Repair. 
It doesn't matter to us how complex the breakdown is. If there is even a small chance to restore the refrigerator, we use it. Our repairmen regularly attend training at manufacturers' factories to be aware of even the smallest subtleties and be able to work with even the most difficult "patients".
To use the Jenn-Air Refrigerator Repair and Service, call Home Appliance Service Center or fill out the feedback form on the website. Let us know the time when it would be convenient for you to meet the repairman. He will diagnose, quickly determine the cause of the breakdown, and eliminate it.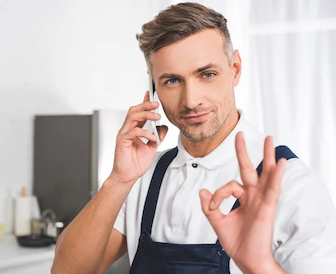 Main Reason to Choose Us
We've been repairing household appliances since 2001. Our experience is your guarantee of quality. We are ready to come to you on the same day and inexpensively carry out high-quality repairs. We use only original spare parts!

Labor Guaranteed
We provide a 90-day warranty on every repair for every client.

Same Day Service
We carry out repairs on the same day you call us in 95% of cases.

Licence & Insured
Each repairman who works for us has a license and insurance.
Choose the brand of your Refrigerator
We repair all popular models of residential appliances from major brands. Find your Refrigerator brand in the list below and click on it for helpful information. Call us or fill out the feedback form, and our repairman will come to you on the same day. Rely on us and we will prove that we are real professionals!