Whirlpool Refrigerator Repair
To prevent you from facing unpleasantries about your dear appliance, we offer the help of a qualified service provider - Home Appliance Service Center. Our company worked hard for over 20 years to be able to provide the top-rank Whirlpool Refrigerator Repair in San Diego County for all models of this brand!
It is clear that we buy a refrigerator to use its cooling properties. So when it stops functioning properly and its temperature cannot be set to the required level - no doubt, you need to make things work fine again sooner. Another `wrong climate` inside the fridge may happen when you notice that it has ice pieces on its inner walls or any liquids dripping out. 
Whirlpool refrigerators are also known for being pretty loud, but you may notice your start buzzing even more. Which is a sign of a needed check-up as well. And calling a Whirlpool Refrigerator Repair and Service technician at home. 
Broken external parts, like surface elements, bulbs, doors, shelves, buttons, and handles replacement, are not that serious issues, but still, none like having an expensive appliance with defective detail, and solving it is needed for your comfort. 
And for cases when any hardware detail (compressor, control relay, condenser, evaporator or defrost elements, times, tans, or coils) went out of order, there is no better solution than applying our company for Whirlpool Refrigerator Repair done by experienced and qualified specialists. 
Why exactly our company? Because our specialists are:
RESPONSIBLE
They will be at your place exactly when you need them. Even at night. And even on a day off. For your urgency, they can leave your place within 15 minutes for a small extra fee. You never will wait for them for long, as almost all work is completed on the same day. 
Our local department is managed perfectly and is always close to you. Besides that, we take charge of our work so back to all the Whirlpool Refrigerator Repair and Service we perform up with a long-term warranty.
HIGHLY SKILLED
Every Whirlpool Refrigerator Repair specialist is keen on learning every small piece of information about the functioning and construction of appliances. After long years of doing it every day, they spend no time finding and eliminating the breaking. 
They know exactly which detail may cause the failure you have faced. Due to this, they can precisely estimate the situation even by phone, when the client calls for remote diagnostics or consultation.
PROFESSIONALLY EQUIPPED
Our Whirlpool Refrigerator Repair and Services have only the best professional tools and materials and get original spare details from manufacturers, so in need of replacement, your Whirlpool refrigerator will barely differ from a brand new one!
HONEST
We do not pretend to do more than we really have, so always charge a fair price. And we never try to make you pay for fixing the appliance which is obviously beyond the repair! You will be clearly informed about the condition of your refrigerator and every step of our work while we make it work great again. Our craftsmen at Whirlpool Refrigerator Repair can be trusted.
Home Appliance Service Center has proven its professionalism and reliability over time. For all those features, our friendly attitude and reliability, we have many positive reviews from our clients. Lots of them become regular ones and recommend our company to others. Probably, there is no better way to choose a provider of a decent Whirlpool Refrigerator Repair and Service than seeing the opinion of ones who have already done the right choice and applied to us!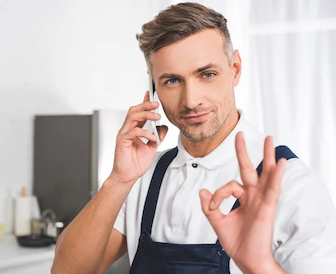 Main Reason to Choose Us
We've been repairing household appliances since 2001. Our experience is your guarantee of quality. We are ready to come to you on the same day and inexpensively carry out high-quality repairs. We use only original spare parts!

Labor Guaranteed
We provide a 90-day warranty on every repair for every client.

Same Day Service
We carry out repairs on the same day you call us in 95% of cases.

Licence & Insured
Each repairman who works for us has a license and insurance.
Choose the brand of your Refrigerator
We repair all popular models of residential appliances from major brands. Find your Refrigerator brand in the list below and click on it for helpful information. Call us or fill out the feedback form, and our repairman will come to you on the same day. Rely on us and we will prove that we are real professionals!