Fisher & Paykel Refrigerator Repair
Fisher&Paykel is not in vain considered one of the leaders in the home appliance market. Despite the fact that really high-quality and reliable household appliances are produced under the Fisher&Paykel logo, they sometimes break down. There is a Home Appliance Service Center near you. If you encounter a technical problem, please use Fisher&Paykel Refrigerator Repair in San Diego County service. 
You will get help from professionals very quickly, as in 95% of cases we come to the client on the same day. Repair are carried out by experienced specialists who have a license, the necessary certificates and insurance. A positive result of the repair is guaranteed!
We are all-rounders!
There are dozens of refrigerator breakdowns. Yes, problems are different and there are many of them, but we know how to find a way out of any situation. Our specialists carry out Fisher&Paykel Refrigerator Repair and Service of any complexity. 
They quickly and efficiently repair both old models of refrigerators and new ones. Whatever problem you have, call us, order the Fisher&Paykel Appliances Repair service.
Let's look at the breakdowns that our repairmen most often encounter. These problems are usually complained about by customers who turn to us for help.
Water is leaking from the refrigerator.

The appliance has warm walls.

The refrigerator doesn't cool food well enough, causing food to spoil more quickly.

Control buttons or temperature control knob does not work.

The display doesn't work, or it is damaged.

There is too much ice in the freezer.

The refrigerator doesn't turn on at all.

The household appliance doesn't pause, it works constantly (this overloads the refrigerator, and it wears out faster).

You hear a strange sound while the refrigerator is operating.
A technician who specializes in Fisher&Paykel Refrigerator Repair and Service can determine the cause and repair the problem. Experienced specialists have faced this or that problem dozens of times. You won't be able to surprise our professionals with anything. 
Only occasionally does the refrigerator get so severely damaged that it cannot be repaired. In most cases, it is enough to either Fisher&Paykel Refrigerator Repair the broken part or replace it. Sometimes the problem lies in the wrong settings of the refrigerator. Trust our professionalism and we will solve your problem.
We carry out repair of household appliances with a guarantee of quality
Each customer receives a 90-day warranty. During this time, we are always in touch: you can call us any day. Our experts will help you with useful advice, Fisher&Paykel Refrigerator Repair and Services and if the breakdown occurs again within 3 months, the repairman will come and fix it.
You can use the Fisher&Paykel Refrigerator Repair, no matter how complex the breakdown occurs. We have been working since 2001, that is, we have more than 20 years of experience. You can't surprise us with anything!
Even if it seems to you that your refrigerator is beyond repair and it's time to buy a new model, take your time. Our repairmen have restored many "hopeless" refrigerators, making them work longer and reliably.
Fisher&Paykel Refrigerator Repair and Service is just one phone call away. The phone number is listed on the website. You can also request a callback using the feedback form. After that, you will simply need to choose the time when you want the specialist to come to you. He will diagnose and definitely solve your problem in a short time! Home Appliance Service Center is always happy to help!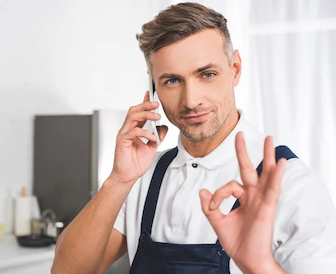 Main Reason to Choose Us
We've been repairing household appliances since 2001. Our experience is your guarantee of quality. We are ready to come to you on the same day and inexpensively carry out high-quality repairs. We use only original spare parts!

Labor Guaranteed
We provide a 90-day warranty on every repair for every client.

Same Day Service
We carry out repairs on the same day you call us in 95% of cases.

Licence & Insured
Each repairman who works for us has a license and insurance.
Choose the brand of your Refrigerator
We repair all popular models of residential appliances from major brands. Find your Refrigerator brand in the list below and click on it for helpful information. Call us or fill out the feedback form, and our repairman will come to you on the same day. Rely on us and we will prove that we are real professionals!