Amana Washer Repair
If you notice that your washer is not working properly, we recommend that you contact the Home Appliance Service Center. For more than 20 years we have been repairing equipment from different brands and we know what features this or that manufacturer has. Take advantage of our Amana Washer Repair in San Diego County service and get a really high-quality repair with a 90-day warranty.
Get the fastest help from experts in their field
We understand that after the washer is out of order, you want to return your household appliance to life as soon as possible, since its absence creates serious discomfort. You can rely on us because our specialists work extremely fast. Once you order Amana Washer Repair and Service, you will be convinced of this. 
Clients praise our speed of work and the professionalism of our employees. If you contact Amana Washer Repair for help, you will certainly become another such client! One of the factors that allows us to work quickly is that in 95% of cases we come to the client on the same day that he called us. Yes, you don't have to wait for a specialist for 1-2 days or more, while continuing to wash things by hand!
Immediately after arrival, the specialist begins to conduct diagnostics. It doesn't last long, because we use the latest diagnostic equipment, and our specialists know how to masterfully use it. The Amana Washer Repair and Service itself also takes a little time. As soon as the expert determines the cause of the breakdown, he already knows what needs to be done to solve the problem. 
He doesn't waste time looking for information or "experimenting" with your home appliance, that is, using several Amana Washer Repair methods in search of the optimal one.
You can call us and find out how long the Amana Washer Repair and Services will last specifically in your case. We are in touch every day and are always ready to help you with advice.
About breakdowns we can fix
It doesn't matter to us how serious the problem is. Our specialists can both solve an "easy" problem and find a way out of a difficult situation (of course if there is at least some chance to bring the household appliance back to life). Whatever happens, use the Amana Washer Repair.
Look at some popular breakdowns that our customers come to us with.
Washer stops in the middle of work, refuses to continue washing.

Water is leaking from the appliance.

The drum doesn't spin.

The water doesn't heat up to the correct temperature.

Control buttons don't work.

The washer is working at a high noise level.

There is a burning smell.

Washer doesn't wash clothes well.
The extensive experience of our specialists allows them to quickly diagnose and accurately find the cause of the breakdown. After that, the repairman either restores the part that failed, or replaces it. We use only original spare parts, which guarantee reliable operation of the household appliance in the future.
Would you like to use Amana Washer Repair and Service? Call Home Appliance Service Center at the phone number listed on the website or fill out the feedback form.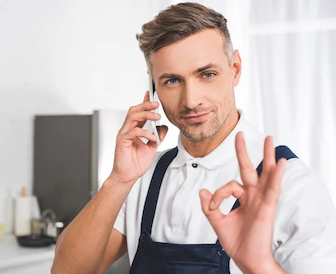 Main Reason to Choose Us
We've been repairing household appliances since 2001. Our experience is your guarantee of quality. We are ready to come to you on the same day and inexpensively carry out high-quality repairs. We use only original spare parts!

Labor Guaranteed
We provide a 90-day warranty on every repair for every client.

Same Day Service
We carry out repairs on the same day you call us in 95% of cases.

Licence & Insured
Each repairman who works for us has a license and insurance.
Choose the brand of your Refrigerator
We repair all popular models of residential appliances from major brands. Find your Refrigerator brand in the list below and click on it for helpful information. Call us or fill out the feedback form, and our repairman will come to you on the same day. Rely on us and we will prove that we are real professionals!