Samsung Washer Repair
We appreciate the reliability of Samsung production and never recommend avoiding this choice for your house, but to prevent many stresses about maintenance and repair, we have a more interesting option for you. Apply to Home Appliance Service Center and receive a reliable Samsung Washer Repair in San Diego County the same day for a fair price and at the highest quality level, with a long-term warranty!
We are strongly confident that Samsung Washer Repair and Service for Samsung appliances should be provided only by experienced and qualified specialists, with the usage of professional tools and original spare details, not to lose any benefit of the great quality of the product. It is exactly the way we treat every appliance from our customers. 
By applying for Samsung Washer Repair, you can be sure of the brilliant result of the repair, regardless of the rareness or the lifetime of your item. We have over 20 years of working in this sphere, constantly developing and sharpening our skills to be able to cope with any task.
You may need the assistance of the Samsung Washer Repair and Service for many reasons, from a lost handle to the appliance not turning on at all. We gathered some signs which may mean that you have some important inner detail out of order, so you should apply their solution for better if:
The washer heats much, bounces around, buzzes, clicks, or gurgling;

You smell burn while it is working;

Clothes have an odor after washing, or go out not clean enough;

The drum is not spinning, clothes are too wet or torn after;

The washing machine stops without completing the washing, pauses itself, does the washing cycle for too long or nonstop;

You cannot change mode, temperature, speed of spinning, or water level;

The door cannot be normally closed or opened;

It does not fill with water or does not stop filling;

You notice puddles of foam or water on the floor.
Besides finding a reason for those breakings and immediately eliminating them, Samsung Washer Repair helps with simpler issues, like replacing or cleaning hoses, pipes, valves, seals, belts, leveling feet, dispensers, buttons, knobs, switchers, flashing lights, and any other. Remember that proper care for your washing machine may help you make your appliance work properly longer.
If you are not sure about the condition of your appliance or terms of working with us, you can contact us anytime and have a consultation with our friendly and polite Samsung Washer Repair and Services, or ask for diagnostics, which can be also done by phone. 
This will save a lot of time and clarify the volume and cost of Samsung Washer Repair. And if you doubt in another thing, like if our company is the best choice, we care for your confidence and protect your appliance for a long-term warranty for all works done by our specialists. 
We are sure of the great quality of the result, as we know exactly, that every technician has enough knowledge and mastership to provide any appliance with a careful and responsible attitude to make it run like clock again.
Many of our clients have already checked it themselves and now they are fully satisfied with working at Home Appliance Service Center and recommend us to friends and share positive reviews on the net. We are always close, and our technicians are ready to rush to you at any time of day or night. Applying to us, you may be sure of getting a top-quality Samsung Washer Repair and Service at the most affordable price and at any moment you need it!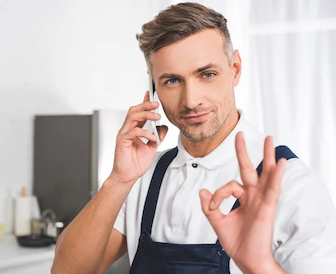 Main Reason to Choose Us
We've been repairing household appliances since 2001. Our experience is your guarantee of quality. We are ready to come to you on the same day and inexpensively carry out high-quality repairs. We use only original spare parts!

Labor Guaranteed
We provide a 90-day warranty on every repair for every client.

Same Day Service
We carry out repairs on the same day you call us in 95% of cases.

Licence & Insured
Each repairman who works for us has a license and insurance.
Choose the brand of your Refrigerator
We repair all popular models of residential appliances from major brands. Find your Refrigerator brand in the list below and click on it for helpful information. Call us or fill out the feedback form, and our repairman will come to you on the same day. Rely on us and we will prove that we are real professionals!