Fisher & Paykel Washer Repair
If your washer breaks down, you don't have to buy a new appliance right away. This is not the cheapest thing, so you shouldn't spend money so thoughtlessly. Here's a good argument for you not to do this: your old washer can most likely be repaired, and it will serve you long and reliably. Let the Home Appliance Service Center specialist look at your appliance. When you use Fisher&Paykel Washer Repair in San Diego County service, you'll get quality-assured repair. Each customer receives a 90-day warranty. 
We have experts with extensive experience who have eliminated many complex breakdowns during their work. The big advantage of our specialists is that they know how to work with household appliances from the Fisher&Paykel Washer Repair and Service. 
You are guaranteed to receive a quality Fisher&Paykel Washer Repair, as our repairmen know all about the common breakdowns of this equipment and know how to solve even the most complex problems.
Every problem has a solution, and we will find it!
Our company started its work in 2001, that is, we have more than 20 years of Fisher&Paykel Washer Repair and Service. Is it a lot? Of course! Just imagine how many different household appliances we have seen during this time and how many breakdowns have been eliminated. 
Thanks to our extensive experience, we don't look for a solution from scratch when a client asks us for help. We use previous experience and quickly find a solution to the problem.
Let's look at the breakdowns most often complained about by customers who use the Fisher&Paykel Washer Repair.
Who knows, maybe there is a problem on this list that you are facing.
Washer doesn't turn on and doesn't respond to button presses (the situation may not be as critical as it seems. For example, the cause may be a simple damage to the power cable);

The appliance turns on, but no water gets inside the drum.

Washer turns on, allowing you to select a program, but after starting the wash, the drum doesn't spin.

Clothes remain dirty after washing.

The appliance makes strange noises (in this case, it is better to turn off the washer and wait for the repairman to arrive. If such a breakdown is ignored, it can cause serious damage to the household appliance over time).

You smell burnt (in this case, it is especially dangerous to turn on the washer. Don't risk it).
If you want to consult with us regarding your breakdown, call us any day. We work seven days a week.
Repair in one day? It's possible!
Our company is close to you. In 95% of cases, we come to the client on the same day. This means that we are ready to solve your problem as soon as possible. Another advantage is that we have the equipment and spare parts in stock to carry out almost every repair. You have to wait a bit until the spare part is delivered only in very rare cases. Use our Fisher&Paykel Washer Repair and Services to get your appliance back up and running as quickly as possible.
When we say that great professionals and real experts in Fisher&Paykel Washer Repair for us, we don't exaggerate. Our repairmen regularly attend training at manufacturers' factories, where they receive useful information that they use for the benefit of customers. In addition, specialists work on the most modern equipment, and this is an invaluable experience!
To use the Fisher&Paykel Washer Repair and Service, call Home Appliance Service Center or fill out the feedback form on the website. Our manager will listen to you and send a repairman who will come to you at a convenient time. We make every effort to ensure that each of our clients is satisfied with the services provided.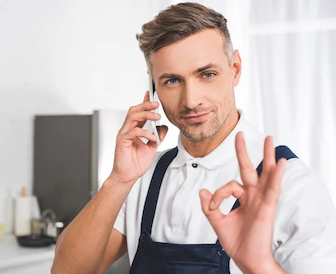 Main Reason to Choose Us
We've been repairing household appliances since 2001. Our experience is your guarantee of quality. We are ready to come to you on the same day and inexpensively carry out high-quality repairs. We use only original spare parts!

Labor Guaranteed
We provide a 90-day warranty on every repair for every client.

Same Day Service
We carry out repairs on the same day you call us in 95% of cases.

Licence & Insured
Each repairman who works for us has a license and insurance.
Choose the brand of your Refrigerator
We repair all popular models of residential appliances from major brands. Find your Refrigerator brand in the list below and click on it for helpful information. Call us or fill out the feedback form, and our repairman will come to you on the same day. Rely on us and we will prove that we are real professionals!