Whirlpool Washer Repair
Whirlpool washers are an excellent and reliable choice that pleases the owner of such a device with its flawless performance for a long time. And that is why it is very frustrating when something goes wrong. But do not rush to get upset, because the Home Appliance Service Center will quickly make it work like new, even before you notice any inconvenience due to its breakdown! With over 20 years of experience repairing all models of Whirlpool Washer Repair in San Diego County of any complexity, we can provide you with all the services you need with brilliant results and at an affordable price!
The very common opinion is that speed, quality, and adequate price can never apply altogether to the same service or company. It may often be true, but Whirlpool Washer Repair and Service breaks that rule!
To reach the highest speed of solving your issue, we have organized all processes the best way and now our customized workflow lets us spend minimum time for the arrival of the Whirlpool Washer Repair to your address, as we have local departments in many cities, including San Diego County. 
While application to some other companies may take several days or weeks, we always aim to complete the task within the day you apply, and in the absolute majority of cases, we do it successfully. A nice bonus is that we are available 24/7, so for a special rate, we can urgently rush to you even at night or on a day off.
We prefer to be fair and honest with you, so overcharging is not about us. Our prices tend to be the most affordable, plus consultation and diagnostics are free. You will always clearly know about the condition of your appliance, an exact plan of your Whirlpool Washer Repair and Service, and its cost beforehand if you call us and let us know what happened.
Unfortunately, sometimes Whirlpool Washer Repair has to answer you with unpleasant news, as when the repair is not reasonable, we would rather honestly inform you than pretend to fix it, or conduct a repair, which cost is too high due to the cost of original spare details. For example, the cost of the original Whirlpool motor may be over $700, and you may prefer to buy a new appliance than get an expensive part for an old one.
The quality of work is the main reason for Whirlpool Washer Repair and Services, as our reputation, proven by tons of satisfied clients, is a fruit of long labor, and we never want to get it spoiled. 
Our technicians always keep on refining their skills and broadening their knowledge about the latest models and technologies, so we are confident that there is no such breaking that is not familiar to them. 
Due to this fact, all works are done quickly, precisely, and carefully, using only the best selected professional tools and original spare parts, to make sure that the result of the work will be perfect. As a sign of our responsibility and reliability, we provide all work with a long-term guarantee.
It may not always be clear if Whirlpool Washer Repair is needed, as people often think that the issue is not that serious, but such an attitude can lead to a more complex breakage. You should get concerned when your washer has anything from the next list:

It cannot be turned on or off;

The electricity, detergent, or water supply is disturbed;

Clothes remain dirty, too wet, or go out ripped;

The drum is not spinning;

The water of foam leaks outside;
Any body or inner parts (hoses, filters, heaters, knobs, buttons) are cracked or lost;

It heats much while working;

Controllers or timers are not working;

Broken door or door gasket;

The washer door won't latch or open, the lid switch is out of order;

Defective water inlet valve, so your washer won't fill with water, or it won't stop filling;
You hear strange noises, vibrations, or has burning smells while it is working (gurgling, clicking, humming/buzzing), it moves and bounces around;

Clothes and tube had a bad smell;

The wash cycle takes too long or doesn't complete.

Problem with the timer, motor, pump, thermostat, or heating element

Dirty pipes, hoses, filters, water-inlet valve, tub seal, dispenser;

Need to replace buttons, switchers, flashing light;

Cracked parts, like handle, knobs, buttons, belts, or leveling foot;

The washer keeps tripping the power.



Home Appliance Service Center to prove anything we claim about the great quality. Do you have any doubts or questions about your Whirlpool Washer Repair and Service still? That is fine, just contact us and we will help you clarify anything you need. We are available any moment for you, as we care for your time and comfort!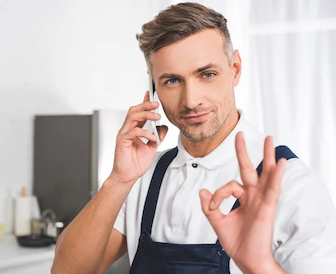 Main Reason to Choose Us
We've been repairing household appliances since 2001. Our experience is your guarantee of quality. We are ready to come to you on the same day and inexpensively carry out high-quality repairs. We use only original spare parts!

Labor Guaranteed
We provide a 90-day warranty on every repair for every client.

Same Day Service
We carry out repairs on the same day you call us in 95% of cases.

Licence & Insured
Each repairman who works for us has a license and insurance.
Choose the brand of your Refrigerator
We repair all popular models of residential appliances from major brands. Find your Refrigerator brand in the list below and click on it for helpful information. Call us or fill out the feedback form, and our repairman will come to you on the same day. Rely on us and we will prove that we are real professionals!