Miele Washer Repair
Taking Miele washers as an example of premium quality and a high cost, we can assume that the cost of its maintenance by an official service center is high too. But it is not an obligation to pay much for expecting long and paying much for the company to fix anything when you can save both time and money but still get all needed work done in brilliant quality. The talk is about Home Appliance Service Center, the company with a customer focus and the best team of highly qualified specialists. Having over 20 years of tireless experience and development, we can offer every client a top-notch Miele Washer Repair in San Diego County.
We have always been the most interested in making cooperation with Miele Washer Repair and Service easy and comfortable for each person who applies to our company. We have carefully investigated the most common troubles, which customers face, and found the most successful ways to avoid them. 
We often hear that applying official customer support of the manufacturer of the appliance is big stress: it is hard to reach out to them by calling, as it is always occupied or has a long queue, the technician arrives in several days minimum, some say even about months, and not always it is possible to use a free service with a warranty, even if it is not overdue yet, and a paid work costs really much. With our Miele Washer Repair, none of that pleasantries may be faced! 
No long expectations!
Our friendliest Miele Washer Repair and Service are 24/7 available to answer your call or contact you after you place an online order. You will be heard, consulted, and get remote diagnostics any time you need. 
The same about the arrival, we can adjust to you and make our technician be at your place exactly when it is suitable for you, even if it is late night or a day off. We always aim to complete every Miele Washer Repair on the same day unless you need it differently.
No huge bills!
We set the most affordable and fair prices for every work we do. Before you decide to apply, you can also get a free consultation.
No hidden fees!
The only extra fee we take is one for urgency while it is a non-working time. The approximate cost of the repair may be announced to you beforehand after diagnostics, so you know what to expect. We are honest about everything we do and when we see that the repair is not recommended, you will be certainly informed.
No loose parts, squeaks, and dust!
Our specialists have been leveling up for ages and are highly proficient, fluent, and perfectly skilled in any type of Miele Washer Repair and Services for any model. Their love and dedication to work guarantee all processes are done accurately, tidy and clean. 
Speed and accuracy are boosted with professional equipment and original spare details of the highest quality. You will not have to worry about dust or rubbish after work and will never notice anything not working properly. To make you calmer about our responsibility, we provide all work with a long-term warranty.
Another trouble, which we have noticed, is that people do not pay enough attention to the condition of their washing machines before they totally break down. Not even talking about regular maintenance, cleaning filters, hoses, pipes, dispensers, what is needed to be done every month. 
You can always call us and ask a Miele Washer Repair for advice about proper care for your appliance, so it will function properly for a long time and protect you from some possible issues. 
Still, the washer may get out of order after a physical impact (like bumping or hitting it while moving, or in another accident), voltage surges, wrong detergent, hard water, and many other factors. 
In any case, we recommend you apply for a service, especially when your device:
Is gurgling, clicking, humming, vibrating, moving, or jumping around while washing;

Does pauses itself, not start or fully complete any step of the washing cycle, such as filling water, spinning, drying, or draining;

Gets too hot, produces a smell of burn;
Has troubles with closing or opening the door, as the lid switch or gasket are spoiled;

Has water or foam leaking out;

Has troubles with electricity supply, trips the power or makes you feel a little discharge current when you touch it;

Does not properly clean clothes, they remain too wet or get ripped;

Wash mode, temperature, speed, and water level cannot be set as required;

Needs pipes, hoses, filters, water-inlet valve, and dispenser to be cleaned;

Needs a replacement of outer (hoses, pipes, buttons, switchers, belts, leveling foot, bulbs, or indicators) or inner (filters, seals, valves, timers, pump, heating element, motor, agitator, tub, transmission, water level control assembly, or off-balance switch) parts.
Those and other troubles were successfully solved by our Home Appliance Service Center, so now we have many satisfied clients, whose reviews and recommendations are great happiness for us. You can easily get the best Miele Washer Repair and Service too, as all you need is just call us or place an online application!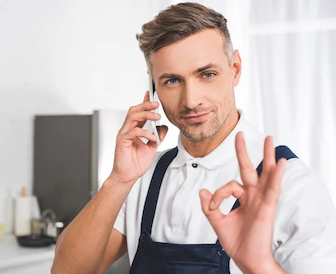 Main Reason to Choose Us
We've been repairing household appliances since 2001. Our experience is your guarantee of quality. We are ready to come to you on the same day and inexpensively carry out high-quality repairs. We use only original spare parts!

Labor Guaranteed
We provide a 90-day warranty on every repair for every client.

Same Day Service
We carry out repairs on the same day you call us in 95% of cases.

Licence & Insured
Each repairman who works for us has a license and insurance.
Choose the brand of your Refrigerator
We repair all popular models of residential appliances from major brands. Find your Refrigerator brand in the list below and click on it for helpful information. Call us or fill out the feedback form, and our repairman will come to you on the same day. Rely on us and we will prove that we are real professionals!