Kenmore Washer Repair
If your washer stops working properly and you notice that there is some kind of breakdown, call for help right away. Even if the appliance continues to do its job, and it seems to you that the situation is not serious, don't waste time. Contact the Home Appliance Service Center. Don't worry, we do our job quickly. If you use Kenmore Washer Repair in San Diego County, our specialist will likely come to you the same day. 
We carry out Repair, you get a guarantee of quality
Every customer who uses Kenmore Washer Repair and Service receives a 90-day warranty. We take control of your household appliance for 3 months and are ready to help if you have problems in the future. However, problems will not arise, and now we will explain why.
Our company uses original spare parts that meet all existing standards. These are the items approved by the manufacturer. Such spare parts are ideally suited for certain models of household appliances. They last a long time and don't create problems. 
Another factor of successful Kenmore Washer Repair is the professionalism of specialists. We are 100% confident in our employees. Each repairman has a certificate and a license. This is documentary evidence of their high level. Also, each employee is insured.
We hire only true experts and encourage them to develop in their field. Repairmen regularly visit manufacturers' factories, where they undergo training. Thanks to this, they know without exaggeration everything about modern household appliances. 
No matter how technologically advanced and innovative your washer is, our specialist will find a way to quickly and efficiently Kenmore Washer Repair and Service it.
Would you like to learn more about our Kenmore Washer Repair or about the company as a whole? Call us any day. We work seven days a week and are always ready to provide you with all the necessary information. In addition, you can read reviews about our company on Google or Yelp. 
What do Kenmore washers' owners most often complain about?
We have over 20 years of experience. Of course, over such a long period of time, we have encountered a wide variety of Kenmore household appliances and a variety of breakdowns. L
Look at the most popular problems that customers complain about when using the Kenmore Washer Repair and Services:
Water flows out of the washer.

The household appliance is too noisy.

The drum is not spinning.

Clothes are too wet after washing.

Doors don't close tightly.

The washer spontaneously turns off.

The household appliance doesn't turn on.
Even if it seems to you that a disaster has happened and your washer will no longer work, don't rush to conclusions! We've faced such situations many times and brought home appliances back to life. 
Our repairmen regularly attend training at manufacturers' factories in order to find a way out of the most difficult situations and be able to work with the most modern, technologically advanced models. Kenmore Washer Repair can fix the problem without any loss of quality.
If you need help, use our Kenmore Washer Repair and Service by calling the Home Appliance Service Center phone number listed on the website. You can also fill out a feedback form. Tell our manager the time when the repairman should come to you.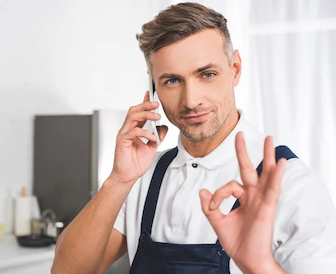 Main Reason to Choose Us
We've been repairing household appliances since 2001. Our experience is your guarantee of quality. We are ready to come to you on the same day and inexpensively carry out high-quality repairs. We use only original spare parts!

Labor Guaranteed
We provide a 90-day warranty on every repair for every client.

Same Day Service
We carry out repairs on the same day you call us in 95% of cases.

Licence & Insured
Each repairman who works for us has a license and insurance.
Choose the brand of your Refrigerator
We repair all popular models of residential appliances from major brands. Find your Refrigerator brand in the list below and click on it for helpful information. Call us or fill out the feedback form, and our repairman will come to you on the same day. Rely on us and we will prove that we are real professionals!